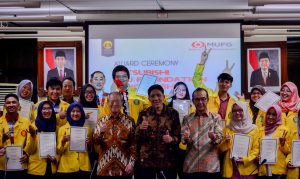 20 chosen students of Universitas Indoensia (UI) attended Bank of Tokyo-Mitsubishi UFJ Bank Scholarship Awarded
Ceremony on Tuesday, November 11 th 2017 at A Meeting Room of Rektorat Building, UI Depok.
The event was also attended by Vice Rector of Academic and Student Affairs of UI, Prof. Dr. Bambang Wibawarta,
S.S, M. A, Head of Mitsubishi UFJ Foundation, Shigemitsu Miki and Yasuke Katsuka as General Director of Bank of
Tokyo Mitsubishi UFJ – Jakarta Branch.
This Cost Living scholarship is given once in a period to students who has high achievement in academic aspect.
The amount that is given is IDR 4.600.000 for each student in a year.
This cooperation was also to improve bilateral relation between Indonesia and Japan, especially in educational
aspect. This scholarship has been given to UI students since 1984.
"Up to now, this scholarship has been given to 600 students from 13 countries. Among of them is UI, our oldest
partner," said Shigemitsu.
At the end of his speech, he hoped that the receiver students would keep improving and enriching their self by trying
new things.
"Actually Indonesia has a lot of potential that is has not been maximized yet. This is where young people play
important role to develop those potentials," closed him.