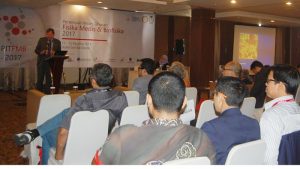 Profesor Dale L. Bailey, a nuclear medicine physics expert from University of Sydney and Head of Nuclear Medicine
Department from Royal North Shore Hospital, Sydney attended Annual Scientific Meeting of Indonesia Medical
Physics and Biophysics that was held by Faculty of Mathematics and Natural Sciences Universitas Indonesia (UI) at
Santika Hotel, Depok on Saturday, August 12 th 2017.
In the forum, Bailey explained nuclear medicine progress and utilization that is being used a lot especially on handling cancer in Australia. His presentations was attended by around 200 medical physicists and nuclear medicine practitioner from various higher education institute and hospital in Indonesia.
Bailey also explained that he has been cooperating and giving training on nuclear medicine in Indonesia for a long
time. He admitted that he is amazed with outstanding development of nuclear medicine utilization in Indonesia for thelast three decades.
"I had come and involved in Indonesia nuclear medicine since 1998. I remember the first place that I visited, the
facility funding were still supported and every afternoon electricity in that area was down," recalls him.
"The granted equipments were so expensive yet were not used since no one was able to operate them and in the end
they were out of order. Very ironic," added Bailey. But now, the situation has changed a lot.
"Now the better system is running. There are also some PET/CT scanner available in Jakarta and Bandung. Some
institutions are also provide this service. The equipment that is available are still using third world technology, yet the
practitioners are very skillful. That is very helpful," said him.
According to Bailey, the development that is happening in Indonesia could be expanded. Yet, he admitted that
However, he appreciated enthusiasm of Indonesian nuclear medicine practitioner in facing the obstacle by focusing
on nuclear medicine study instead. For example is dosimetry study, that is the way to determine appropriate dosage
of radiopharmaka doses that will be injected according to the patient's individual needs.
On the other side, nuclear medicine technology utilization in Australia is now having 70 to 75 main machine, that is
Positron Emisson Tomography (PET) Scanner. This makes Australia become the main reference for medical
physicist and medical practitioner in Indonesia who willing to improve their capability.
"Australia is highly advance in nuclear medicine technology. We already done a lot of cooperation with Australia,
especially in clinical training that is using Australia system. Lots of staff of UI Faculty of Mathematics and Natural
Sciences (FMIPA UI) has sent to study in Australia as well," said Dr. Supriyanto Ardjo Prawiro, from FMIPA UI
Department who is also head of Indonesia Medical Physicist Alliance.
Dr. Prawiro hoped that this cooperation could be expanded especially to scientific research and medical physicist staf training.