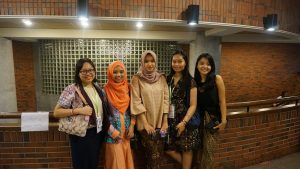 On last July 31 st to August 10 th 2017 delegation of Faculty of Pharmacy Universitas Indonesia (FFUI) successfully
gained achievement on ajang IPSF World Congress 2017 in Taipei, Taiwan.
Clarasintha Nindyatami, one of the delegation team member successfully got 1 st place on Patient Counseling
Competition and Compounding Events, meanwhile Tifa Maulina and Aulia Hanifah got 2 nd and 3 rd place on Patient
Counseling Competition.
Beside that, all of delegation team member, including Maria Rezitadina and Agatha Corintias Winarti became finalist
of Educational and Scientific Poster Competition on the same event.
IPSF World Congress is an annual IPS (International Pharmaceutical Students Federation) event, an international
pharmacy student organization.
63 rd IPSF World Congress event series consisted of General Assembly, Workshop, Symposium, Public Health
Campaign, and several competition and social event as well.
Those series of event was held at Chientan Youth Activity, Taiwan Medical University (TMU) and several interesting
location in Taipei.
The most important session on IPSF every year is General Assembly. General Assembly is an annual meeting
between IPSF Executive and IPSF members.
Each country and association were given a chance to sent 3 delegation as representatives in giving their opinion and
ideas.
On this year's General Assembly, Christian Roth (BPhD, Germany) was chosen as 2017-2018 IPSF President.
Beside that, there was also decided that the 64 th World Congress will be Argentina, and the next year will be Rwanda.