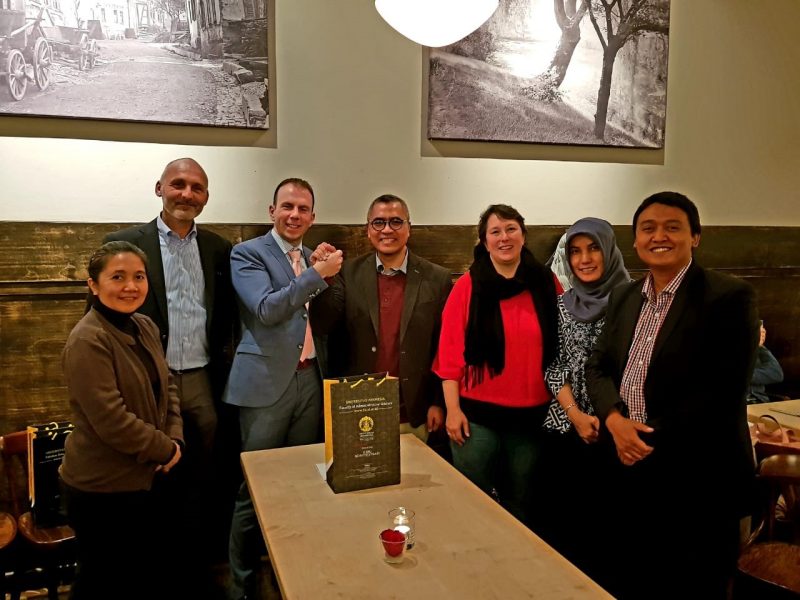 Although still a 3 years-old faculty, Faculty of Administrative Science Universitas Indonesia (FIA UI) is actively exploring cooperation with several foreign countries. In the last week of September, FIA UI visited three famous universities in Germany: University of Erfurt, German University of Administrative Sciences Speyer, and Berlin School Economic & Law (BSEL).
The group who were led by the Dean of FIA UI, Prof. Eko Prasojo, exploring cooperation in research and academic in administrative science. Beside Prof. Eko Prasojo, the FIA UI gorup were also consisted of Retno Kusumastuti (the Vice Dean of Finance and General Administration), Reza Fathurrahman (Head of International Cooperation) and Novita Ikasari (Head of Governance, Public and Business Policy Study Center).
In the Speyer University visit, several agreements between the both parties were reached. The first agreement is that Director of German Research Institute for Public Administration of Speyer University, Prof. Jan Ziekow, is willing to attend FIA international conference in the next year and giving public speech.
The second one is Prof. Jan Ziekow will support their research assistant student to inbound in FIA UI. The last one is that Speyer University will accept doctoral student or lecturers of FIA UI with funding from Alexander von Humbolt institute.
Besides that, the other agreement is that FIA UI is able to send community servant to receive training in Speyer. Lastly, there will be research with Sustainable Development topic.
Cooperation with Erfurt University will be centered in research collaboration with social innovation theme. Junior professor of Erfurt University could also act as visiting scholar at FIA UI next year. The other cooperation is doctoral degree student of FIA UI will be able to do research collaboration visit in Erfurt University.
In the visit to Berlin School Economic & Law (BSEL), two faculties see the cooperation potential. Among of the cooperation is that the student mobility and internship for both universities; and also research cooperation in entrepreneurship, green economy, financial technology and other various topic.
Besides that, the other cooperation potency is certified education and training in certain field such as financial management for research and educational institution. Lastly, cooperation by student colloquium for doctoral student is expected through visiting fellowship. Two days after cooperation with 3 universities, FIA UI also exploring cooperation with Hertie School of Governance, Berlin dan Universitat Potsdam.