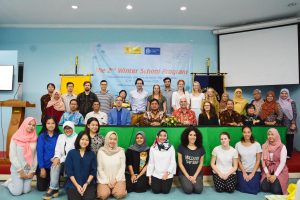 Faculty of Mathematics and Natural Sciences Universitas Indonesia (FMIPA UI)
cooperated with Universiteit Leiden (Netherlands) held Winter School Program on January
11 th to 15 th 2018 at UI Depok Campus.
This program is the result of UI and Universiteit Leiden cooperation program after
successfully held Summer School Program in 2017 with the same concept, that was short
course on environmental issue that combines face-to- face lectures with practice field.
Just like the previous year, this year's theme was "Tropical Diversity & Sustainability:
Marine Chapter", divided into several sub-theme: Effect of Pollution on The Biodiversity of
Sponges, Coral Coverage in Relation with Human Activity, and Sea Turtle Conservation &
Rehabilitation.
Related to the theme, after a few days of activities in UI Depok, participants did the 10
days of field study at UI Depok from January 15 th to 24 th 2018 in Pramuka Island,
Kepulauan Seribu Marine National Park.
In Pramuka Island, they visited two areas of turtle conservation, that were Panjaliran Barat
and Panjaliran Timur. They did combined research related to the given sub-theme and
presented final presentation of the research result.
In this year's program, there were 24 participants from both universities with balanced
composition.
Not only Pramuka Island, participants are also scheduled to visit Cibodas National Park,
Bogor Botanical Gardens and Bodogol Nature Conservation Education Center.
To enrich the participants knowledge, UI presented several speakers who are competent
in their field to give an exclusive public lecture that will give Indonesian cultural insight and
the theme of this program.
Among the speakers, there were Prof. Melani Budianta delivering "Understanding
Indonesian Culture: Unity in Diversity", Prof. Jatna Supriatna, Ph.D, a biology conservation
expert, talked about "Introduction to Indonesia's Biodiversity & It's Challenges", and
General Director of Nature Conservation of Ministry of Environment and Forestry, Ir.
Wiranto who was delivered "Marine Conservation in Indonesia: Future Challenge".
Usually, in the same year, the chosen participants will visit Universiteit Leiden to continue
this program. As well as the activities that was done in Indonesia, in Netherlands
participants will also doing the short course with several researches, projects, and tasks.