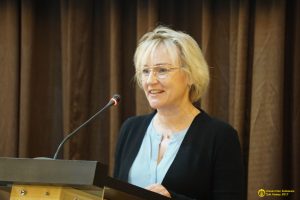 Located at Aula Terapung Room of Central Library, Universitas Indonesia (UI) cooperated with Sweden Embassy
held public lecture titled "Higher Education and Research as A Basis for Economic Growth".
The public lecture that was held on Wednesday, October 3 rd 2017 was delivered by Minister of Education and
Research of Sweden, Helene Hellmark Knutsson.
Several representatives of Sweden universities also attended the public lecture, such as KTH Royal Institute of
Technology, Lund University, and Karolinska Institute.
Knutsson talked a lot about Sweden accomplishment that is reached by strong research base.
According to her, research became the key of success of Sweden big companies such as Spotify and Skype.
"Population of Sweden are only 10 million residents, yet there are a lot of big companies here. They are very
competitive in world level thanks to sustainable innovation," told her.
This innovations are impossible without the existance of strong research, in her opinion.
She did not expect that their government would be proud making Sweden as research society. Sweden Government
has been working so hard to improve lower to higher educational system.
"Our researches quality are always qualified because our university quality are always on the best level," claimed
her. For your information, in universities ranking that is released by Shanghai Ranking Consultancy (2016), there are
eleven Sweden universities that is got into 400 world's top campus.
Some of Sweden Government effort is provides lots of research funding to various campus. Besides, Sweden
Government also releases funding in order to provide lots and excellent lecturer availability.
Now, Sweden is encouraging their students to do overseas research, including UI.
Besides, student exchange programs will always be held intensely. She considered research as promising aspect,
especially for young people.