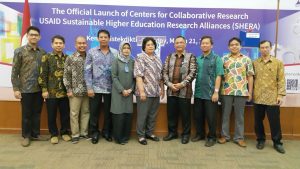 Ministry of Research, Technology and Higher Education of The Republic of Indonesia
(Kemenristekdikti) and US government launched a research grant program named
USAID's Sustainable Higher Education Research Alliances Program (USAID SHERA) that
worth 20 million dollar.
USAID SHEIRA program is aimed to improve the number of international level researches
in universities in Indonesia.
Later on, the research will be done based on cooperation by Center for Collaborative
Research (CCR) procurement in each university during five years.
"This form of cooperation will meet Indonesian and US scientists to conduct world level
researches," explained Deputy Chief of Mission of US Embassy, McFeeters, on the
program launch event.
USAID SHERA cooperated with 23 state or private universities in Indonesia, that is spread
from Aceh to Papua, and 8 US universities.
Those universities will be divided into certain research topics, that are Universitas
Indonesia for Urban Development and Planning topic, Institut Teknologi Bandung for
Innovative Technologies topic, and Universitas Padjadjaran for Public Health and Infection
Disease topic.
Meanwhile, Universitas Gadjah Mada was chosen for Environment, Energy and Maritime
Sciences topic, and Institut Pertanian Bogor for Food Security and Self Sufficiency topic.
Moreover, 8 US universities that will be partner universities consists of University of
Colorado Boulder, University of Colorado Denver, Massachusetts Institute of Technology,
University of Rhode Island, Mississippi State University, University of Illinois,Urbana-
Champaign, University of Florida, and Savannah State University
Several research topic also involving private sector and local government, in hope that
there will be synergy between academician, business and government (triple helix
concept).
Hopefully, the result of this cooperation will not only stop in publication, but also can be
commercialized to produce useful product for Indonesia society.