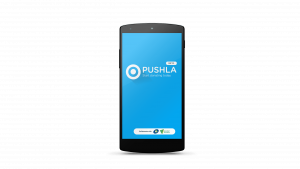 Encouraged by caring for the others, a numbers of Faculty of Computer Science  of Universitas Indonesia (UI) created android-based application named "Pushla". This is the first application that enable the mobile phone users to donate with their phone credit, claimed one of the team member.
The Pushla creator team consists of  Rafi Putra Arriyan (Ari), Ginanjar Ibnu Solikhin, Luqman Sungkar, Laila Mauhibah, and Katri Adiningtyas. The making of Pushla was started by Ari's concern when he interned at one of non-governmental organization (NGO) that frequently become donation place for students social movements.
"It turns out that donations for social movements are still rare. Students social movements are good and important, infact," said Ari as he started to speak. After being checked, the problem that Indonesian donors has been faced was about access and minimum amount of donation. Ari said that lots of donors did not know where to donate and they were dislike to use Automatic Teller Machine (ATM) or web registration system to do the donation. Moreover, the minimum amount of donation most of the times are too much. "Not only the systems that are difficult, but also the minimum amount of donations are quite big. That was why donation target of several social movements were failed to achieve," said Ari.
In order to resolve it, Ari asked his friends at Fasilkom UI to create an application that enable the donors to donate. The application then were named Pushla. Pushla can be downloaded at Google Play start from April 2015.
With its blue-dominated interface, Pushla offers the ease to donate by mobile phone credits. On the main page, users could see social projects that needs donation directly, completed by the amount of funds that has been collected, donation target, and the deadline of donation.
Whenever the donors want to donate, they only need to open social program that they want to donate from main page of Pushla, then click "Donate" icon from it. The donation nominal are also affordable. Starts from IDR 2.000, donors are already able to donate. The donation would be withheld from their mobile phone credit, real-time
In the future, Ari and his friends want to develop this application by cooperating with various social institutions so that it could be included at Pushla. "We hope Pushla can be useful for many people," closed him.