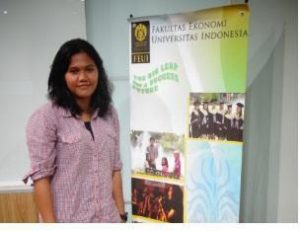 Along with hundreds young people from various countries, Silvia Adinda, student of Faculty of Economics and Business, represent Indonesia on Youth Forum that was held by United Nation Office Drugs and Crime (UNODC). The event was held at Wina, Austria on March 8th to 11 2015. Silvia was selected after a series of selection that was done by Badan Narkotika Nasional (BNN).
Silvia started to interest with drugs eradication issue when she was a school student. She saw a lot of damage that has been done by drugs at her neighborhood. Her interest on drugs eradication was also influenced by her participation on an organization that actively fight against drugs.
In this forum, the participants presented about drugs and how to fight against it that has been done at each countries. As Indonesia representation, Silvia presented about 'Saka Dharma Bayangkara' on scout activities at schools in Indonesia. According to her, scout activities could be a way to educate the students to stay away from drugs.
On her presentation, Silvia said that neighborhood was the most influential factor of drugs abuse. Most of the drugs users were people who have problem in their life then trying to find a temporary peace by taking drugs. The effort to prevent drugs abuse could also be done by peer group discussion. By these, young people could be more aware of drugs abuse.
"They (drugs users) tend to not aware about the impact that could be happen three or five years later, all they think about was only how to soothing their self for a moment," Silvia said.