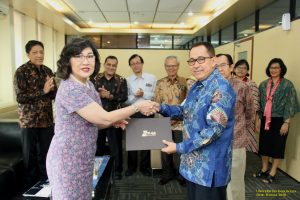 Universitas Indonesia (UI) on Monday, Januari 8 th 2018 received certificate for their
achievement in fulfilling AUN-QA Quality Assessment at Institutional Level from ASEAN
University Network-Quality Assurance (AUN-QA). The certificate handover was done by
Acting Chairperson of AUN-QA Council, Assoc. Prof. Nantana Gajaseni, Ph.D., to Rector
of UI, Prof. Dr. Ir. Muhammad Anis, M.Met.
The certificate was achieved after UI had done the assessment on May 14 th to 19 th 2017.
UI successfully got the level 5 (better than adequate) for all AUN-QA pillars, that are
Strategic QA, Systemic QA, Functional QA, and Results. The 4 pillars including planning
system, implementation, evaluation, and follow-up action of UI as a university. According
to Prof. Nantana, the result that was achieved by UI is the highest overall score among
other universities that had done AUN-QA assessment at Institutional Level.
In general, it can be said that the quality assurance performance in UI can be the one of
reference for higher education quality assurance on ASEAN level. Differ with assessment
process on study program level, assessment on institutional level was done on all
elements in UI, from university leaders to internal stakeholders that are students and
lecturers, and also external stakeholders that are alumni and employers.
In his speech, Rector of UI hoped that this achievement could be continuously improved.
He said that this thing become one of the example of UI proud and grateful achievement,
that was impossible to be achieved without the help of any related party. In the future, he
hoped that this kind of achievement could be continuously achieved and getting better.