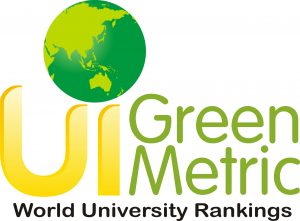 University of Wageningen became the top green campus in the world based on UI
GreenMetricWorld University Rankings 2017. The second and third place were
achieved by University of Nottingham dan University of California, Davis. In the
ranking, Universitas Indonesia (UI) took the 23 rd place and regained its position as the top
green campus in Indonesia. This year, UI GreenMetric participated by 619 universities
from 76 countries.
The announcement was done on Monday, December 11 th 2017 at UI Depok Campus,
witnessed by Directorate General of Research and Development of Minister of Research
and Technology, Dr. Muhammad Dimyati, Rector of UI, Prof.Dr.Ir.Muhammad Anis,
M.Met and Head of UI GreenMetric, Prof. Riri Fitri Sari.
University of Wageningen reached total score of 7,552.00 with superiority as agriculture-
base university in Netherlands. Wageningen applied green aspect in all of their study and
research. On the other side, University of Nottingham with total score of 7,464.00
showed their excellence on education and waste management. Besides that, this campus
has number of innovation in creating renewable energy by Clean Biomass, Solar Cell,
Geothermal, Combine Heat and Power, and Smart Eco-Building. The same thing goes for
University of California, Davis with total score of 7,365.00 that reached third predicate.
This university has environmental science major that has high reputation and strong
commitment to keep their environment green.
UI GreenMetric is UI innovation that is internationally known as the first university ranking
based on high commitment in campus green management. From time to time, there is
escalation in participant enthusiasm to take part in this ranking. It can be seen by the
increasing number of participants as much as 101 universities from 2016. Participants
from Indonesia was also added as much as 58 universities and they also made an effort to
increase their campus quality by fulfilling their UI GreenMetric indicators.