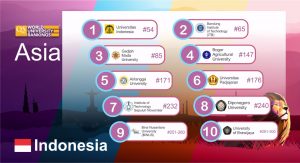 Universitas Indonesia (UI) re-entered into Top 100 Universities in Asia by taking 54 th place
(previously 67 th place) in QS Asia University Ranking 2017.
The ranking was done to more than 400 universities from 17 Asian countries and 23 universities
in Indonesia. The complete rankings can be seen at http://www.topuniversities.com/university-
rankings.
UI excelled on "International Faculty" indicator that indicate overseas academicians and
researchers are interested to share knowledge and doing research at UI.
Up to mid-2017, there were 1.588 academicians that has visited UI to be lecturers, guest
lecturers, guest researchers in order to do sharing knowledge for all UI academician.
In respond to this achievement, Rector of UI, Prof. Dr. Ir. Muhammad Anis, M.Met said "We are
so proud for this achievement – indirectly, this shows that educational institution in Indonesia
has been recognized by the educational world in Asia,".
UI's achievement reached by fulfillment of all parameters. Based on the calculation that is done
by QS team, UI was excellent at teacher qualiy, academic reputation, number of overseas teacher
in UI and teaching and learning activities at each faculty.
Besides that, other indicators that is fulfilled are significant improvement on journal publication,
human resources management on university level and faculties level as well, and institutional
governance.
QS Asia University Rangkings used ten parameters in rankings, that are Academic reputation
(30%), Employer reputation (20%), Faculty/student ratio (15%), Citations per paper (10%) ,
Paper per Faculty (10%), Staff with PhD (5%), Inbound Exchange Students (2.5%), International
Faculty (2.5%), International Student (2.5%) and Outbound Exchange Students (2.5%).