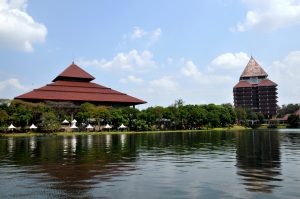 Universitas Indonesia (UI) regained the best university in Indonesia predicate on QS World University Rankings. UI got on 79th rank on "Top 100 of the 2015 QS University Rankings for Asia".
On this Asia ranking, there were 12 universities from ASEAN that successfully got in on the top 100. UI was the only university in Indonesia that got in the top 100 best university in Asia.
QS World University is universities world ranking that is conducted by Quacquarelli Symonds (QS), The British Company that is engaged in educational sector. The first QS University Rankings for Asia that was published for the first time in 2009, was QS World ranking system that involved 300 top universities in Asia. The rankings use methodology that is designed to reflect regional challenges and priority that is faced by universities in Asia.
There are six indicators that are assessed on this QS ranking, which are academic reputation, employee reputation, students ratio in each faculty, number of citation on each faculty, and number of international students and lecturer.