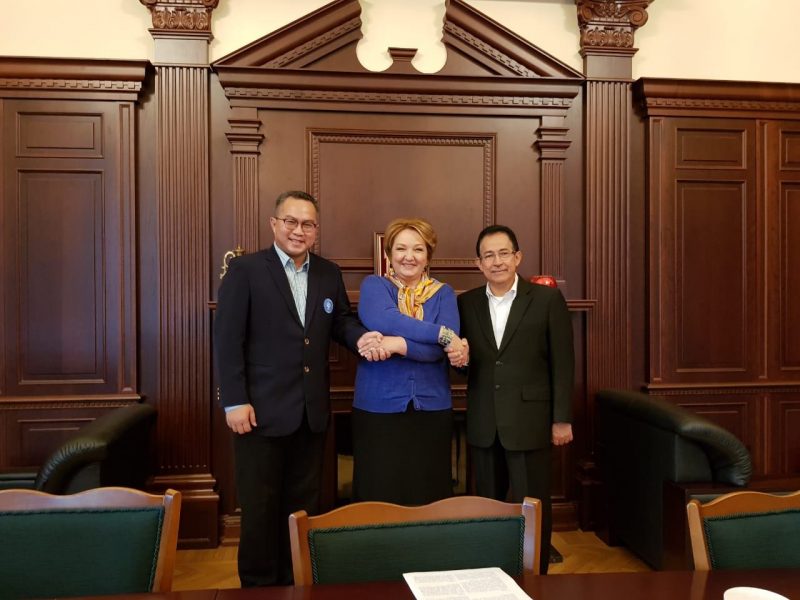 Universitas Indonesia (UI) and Institut Pertanian Bogor (IPB) on Wednesday, September 5th 2018 signed Memorandum of Understanding (MoU) with Russian State Agrarian University – Moscow Timiryazev Agricultural Academy (RSAU MTAA) in Russia.
The MoU signing was done by Arif Satria (Rector of IPB), Muhammad Anis (Rector of UI) and Prof. Galina D. Zolin (Rector of RSAU MTAA).
The MoU is about cooperation in education including student, lecturer and agricultural and environmental research exchange.
Galina Zolin explained that cooperation improvement between Indonesia and Russia is improving from year to year. This year, there are three Indonesian student who received scholarship from Russian Government after previously there was an Indonesian student who studied for doctoral degree.
"Recently we accepted three Indonesian student for bachelor degree in Agronomy, Nutritional Technology and Environment. Last year we only accepted one student, who is Ade Irma Elvira that now pursuing her doctoral degree here," said Zolin.
Before the meeting ended, Zolin spoke about her plan to visit Indonesia that has been postponed. She was not able to participate in GreenMetric University World Rangking by UI in Universitas Diponegoro last April 2018.
After the meeting, Rector of IPB and Rector of UI were asked to visit Timiryazev Agronomy and Soil Museum. There are various kind of soil that can be seen in the museum since RSAU MTAA has excellence specialization and department in agronomy and soil.