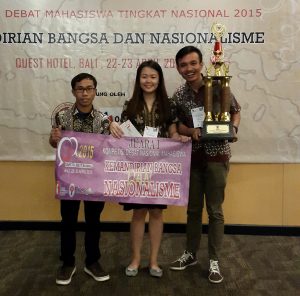 Team of Universitas Indonesia (UI) successfully won the national debate competition that was held by Political Communication Institute (PolcoMM Institute) together with Ministry of Youth and Sports of Indonesia (Kemenpora) at  Quest Hotel, Bali, on April 22nd to 23rd  2015. In this competition, UI debate team defeated Universitas Padjadjaran debate team at final round.
UI debate team consists of Patty Regina (student of Law Sciences, 2011), Badai Yuda Pratama (student of Administration Science, 2012), and Rio Trimono (student of Geography, 2011). "Materials on final round was about dead sentence issue for corruptors," said Regina, UI debate team representative.
The competition was participated by 23 teams from various universities in Indonesia to win the Kemenpora Trophy. Each university sent two teams, consisted of three persons. The debate competition was held by Asian Parliamentary system (3-on-3)  with three elimination rounds. Four teams with the highest score would compete at semifinal round. After that, the two winner teams from semifinal round would compete at final round to win the title.
In Regina's opinion, the hardest thing that they had to prepare was their mentality. "In a day, we had to do three rounds non-stop with three different competitors. The preparation time before the competition was only 7 minutes after the position and motion draw," explained her. However, they could do the competition well with consistency and good understanding of the materials, according to Regina. In order to achieve that, Regina and the team read various recent issues and researched the eight motions that would be debated.
After this winning, she hopes that other UI students would be triggered to participate more in another politic or law debate competition. "Events like this are very effective to increase our knowledge about our nation's recent issues that needs to be taken care of," said her.