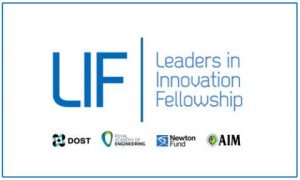 Startup that had been scouted by Directorate of Innovation and Business Incubator
University of Indonesia (DIIB UI) successfully passed the selection test to participate in
Leaders in Innovation Fellowships (LIF) that is held on January 8 th to 22 nd 2018 in UK.
LIF is an international entrepreneurship training that is aimed to train researchers or
students to develop their research that is lead to business scheme. The selected startup
was Javatech Automation (PT. Jaya Otomasi Solusindo), Herbachick (PT. Tasawa Herbal
Nusantara), dan ATM Sehat (PT. Tele Sehat Indonesia).
By the innovation named UtKliq, Javatech Automation running business in industrial,
building, home automation, consulting and training. UtKliq is a web-based system that
monitors and measures electrical energy, water and gas usage in a building that can be
accessed by mobile device.
On the other side, Herbachick is a poultry supplemen that is made by natural herbal
ingredients such as enzim lumbricine, molasses, zingiber officinale (ginger), curcuma
xanthorriza (javanese ginger), curcuma longa (turmeric) and other herbal ingredients.
Meanwhile Anjungan Telehealth Masyarakat Sehat (ATM Sehat) is a remote medical
devices that ease the routine medical check-up and connecting people to various digital
health stakeholder services by online.
Those three startup successfully got a chance to receive direct training by The Royal
Academy of Engineering of the United Kingdom (RAEng). For about 14 days, participants
will be given entrepreneurship training materials such as leadership, intellectual property,
negotiation and corporate financial management.
Besides that, participants will also do the comparative study to business incubators in UK
and visit The Creativity Center UK. By the achievement that is got by the three startup,
hopefully the other student in Indonesia will be inspired to keep on trying and not being
discouraged in running their business.
As educational institution, UI will keep on encouraging their students to do innovations that
is advantageous for society by various programs, such as grant funds and business
incubator program that is managed by DIIB UI.