About Universitas Indonesia
Universitas Indonesia is a modern, comprehensive, open, multi-cultural, and humanist campus that covers a wide range of disciplines.
At the same time, UI is always trying to become one of the leading research universities or academic institutions in the world. As a research university, efforts to achieve the highest achievement in terms of discovery, development and diffusion of knowledge regionally and globally are always carried
The forerunner of UI dates back to 1849 and UI is a representation of an educational institution with the oldest history in Asia. Having produced more than 400,000 alumni, UI continues to play an important role at the national and world levels. However, UI cannot deny its current mission to become a high-quality educational institution, world-standard research and maintain prestige standards in a number of international journals.
"To become a superior and competitive center of science, technology and culture, through efforts to educate the nation's life to improve people's welfare, thereby contributing to the development of Indonesian society and the world."
Provide broad and equitable access, as well as quality education and teaching.
Organizing quality and relevant Tridharma activities with national and global challenges.
Creating graduates who are highly intellectual, virtuous and able to compete globally.
Creating an academic climate that is able to support the realization of UI's vision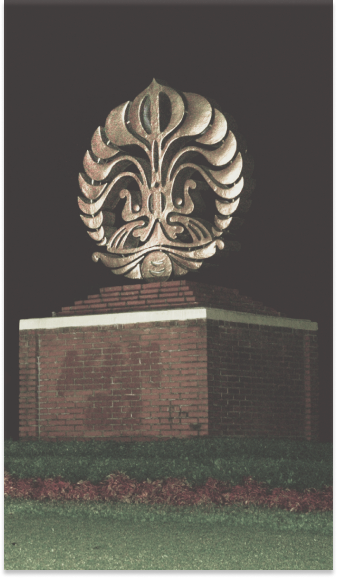 The tree with branches and buds symbolizes the tree of knowledge with its branches of knowledge, while the bud will one day bloom and become a new branch of science.
Makara that flows water symbolizes results that radiate in all directions. The meaning given by Sumaxtono is that the University of Indonesia as a source of knowledge, will produce scholars who are intelligent, skilled, full of piety, virtuous, and personality, as well as being open, responsive to changes and advances in science and technology as well as problems faced by society, and able to complete it according to academic rules, wherever they are.
As one of the higher education institutions that is oriented towards a research-based education system, Universitas Indonesia always strives for the existing education system to be able to prepare its students to compete globally in all aspects, both in the fields of science, social humanities, and medicine. For this reason, an intensive and consistent development of culture and intellectual atmosphere is required. This is fully supported by the organization and management who support each other, from the Board of Trustees, the Rector's Cabinet, the Dean of the Faculty to the Administration Team.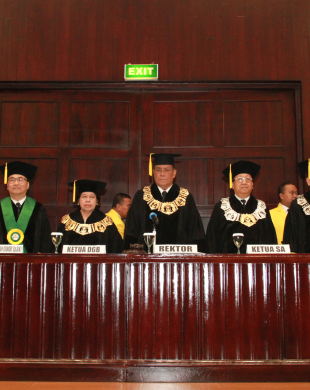 Various awards, achievements, patents, and innovations that have been achieved by the University of Indonesia
Universitas Indonesia In Numbers
Founded in 1887, UI has been a pioneer in innovation
and community service, especially in producing graduates who have a global perspective
Public schemes facilitate reporting that supports information, plays an important role and provides greater openness and transparency in the public sector.
This post is also available in: Indonesian