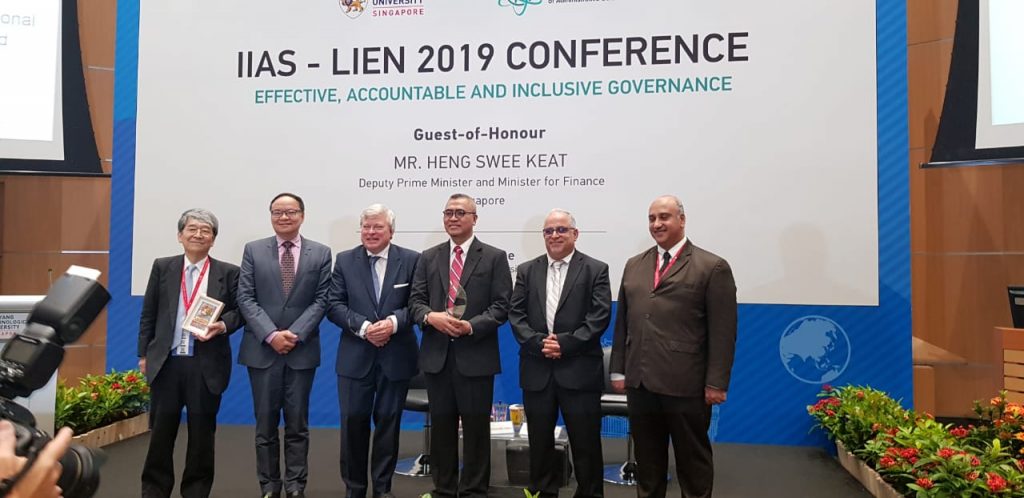 Dean of the Faculty of Administrative Sciences, Universitas Indonesia Prof. Dr. Eko Prasojo, Mag.rer.publ received the Brabantant Lecture 2019 award and was listed as the third person in Asia who received a similar award, after Akira Nakamura (2010) and Pan Suk Kim (2016). The award was given by President IIAS Prof. Dr. Geert Bouckaert, in the event of the 2019 International Institute of Administrative Science (IIAS) Congress in Singapore, Thursday (6/20).
The Braibant Lecture is the most prestigious award given by the International Institute of Administrative Science (IIAS) for individuals who make a significant contribution in the development of administrative sciences in the global arena. The name The Braibant Lecture was taken from Guy Braibant, former president of IIAS and an important figure in the development of Public Administration.
Prof. Eko said, "Public Administration Reform plays a very important, strategic role and even becomes a prerequisite in strengthening democratic benefits to realize people's welfare." Prof. Eko stressed the importance of determining the right policy direction for the development of governance in Asia and globally through public administration reform.
Furthermore, Prof. Eko added, "Public administration is an enabling factor in the development of the nation and state. We must take the positive side of Western, Chinese, and the Islamic Public Administration to face the challenges of global governance in this all-round era. Where should we go after this? that is how we balance democracy with meritocracy, look for a middle point between Western public administration and non-West to achieve results-oriented democracy, and build trans-national administration, "he said.
The 2019 IIAS Congress themed "Effective, Accountable, and Inclusive Governance" held at Nanyang Technological University (NTU) Singapore in the presence of more than 400 academics and foreign practitioners. This congress is held every year to examine various challenges and opportunities in managing governance in various parts of the world. In addition, this congress is a forum for exchanging ideas to combine economic dynamism with social justice for all people, both developed and developing countries.
This award is proof that UI's role in Indonesia's development has been well recognized by the world academic community especially in the field of public administration. It is hoped that UI can always take a role in building an accountable, effective and inclusive Indonesian Public Administration in the objectives of constitutional goals and also the global goals of the SDGs.