FISIP UI: Russo-Ukrainian Conflict and Indonesia's Foreign Policy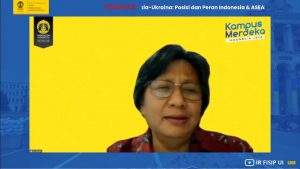 On 24 February 2022, the President of Russia Vladimir Putin ordered a special military operation in parts of Ukraine. Putin emphasised that Russia will immediately respond to any foreign military intervention against Russia's actions. Russia's operation is the culmination of a conflict that has raged since 2014, which saw the annexation of Crimea. The conflict is a chance for Indonesia to play a role in international geopolitics.
A webinar titled "Russo-Ukrainian Crisis: Indonesia & ASEAN's Position and Role" was held virtually by the Faculty of Social and Political Studies Universitas Indonesia (FISIP UI) on Firday (11/3). In his opening speech, the dean of the faculty, Prof. Dr. Semiarto Aji Purwanto, stated, "We hope that in this webinar [all participants] obtain an idea of required solutions and steps, and analyses from various professionals."
"Indonesia's 'independent-active' (bebas aktif) foreign policy is a very appropriate one; Russia's invasion of Ukraine compelled ASEAN states to unite and not become a threat to any other countries," stated Prof. Evi Fitriani, Ph.D, a professor lecturing in the Department of International Relations, FISIP UI.
She is of the opinion that the world should build a transparent global security architecture to prevent invasion by large states. "A safe and secure international architecture wouldn't have let people like Putin to possess a justification for war."
Ukraine and members of NATO such as the United States, in her opinion, has also played a part is allowing the President of Russia Vladimir Putin to have justifications for launching strikes. The world, therefore, needs an international architecture capable of preventing large states like Russia and the United States to possess justifications for launching strikes.
"Thus, a more transparent global architecture in needed, one that will not become a reason for war provocateurs to justify, either from the standpoint of national security or global stability, whatever their actions may be."
In line with the explanation given by Prof. Evi, a lecturer in the same department, Hariyadi Wirawan, stated that the conflict is but one of many in a chain of events involving Russia and Ukraine that has lasted for a long while. He judged that Russia, as a major global superpower, deems many things essential… especially within the context of political upheavals in the world and changes in international geopolitical structures.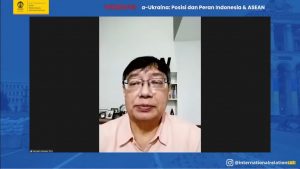 "This became a more sensitive matter to Russia when many countries attempts to carry out, in its very border, many things that Russia saw as security breaches, compounded with Ukraine's attempts to join NATO," states Hariyadi.
The Director of Europe II (a section within the Ministry of Foreign Affairs), Winardi Hanafi, stated that Indonesia consistently applies its 'independent-active' foreign policy in responding to the crisis currently unfolding in Ukraine. He emphasised that being 'independent-active' differs from being 'neutral-active'. An independent-active foreign policy entails contributing to the settlement of conflicts by offering opinions aid in any form. Indonesia does not blindly follow the stances of other countries, but has an interest in voicing the importance of the recognition of international norms and laws.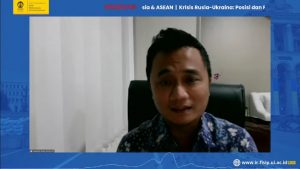 "Indonesia will keep on encouraging the end of the use of force and the settlement of disputes by every party involved. Indonesia deems that the best solution to the conflict is de-escalation, so that talks may be carried out more effectively, thus enabling the opening of humanitarian corridors."
This post is also available in: Indonesian