Health Informatics to Strengthen Health Systems through Bid Data Analytics Studies
According to Prof. Dr. Kemal Nazaruddin Siregar, Health Informatics needs to be utilized in order to strengthen the National Health System in Indonesia. This was conveyed in his professor inauguration speech last Saturday (11/12) at the Universitas Indonesia (UI), which was conducted in a hybrid manner. Health Informatics is a branch of science that studies data related to human health, which aims to strengthen the health system in order to improve the degree of public health. The definition emphasizes the functional relationship between Health Informatics and Health Systems.
Informatics, which comes from the word informatics, is the science and technology of information processing using computers. "So, informatics is a science and technology, while information is the subject, which is the material studied by the science. In short, informatics is the science of information," said Prof. Dr. Kemal Nazaruddin Siregar.
Health Informatics is a branch of science that studies human health data, which includes Public Health Informatics, Clinical Informatics, Imaging Informatics, and Bioinformatics. This branch of science is the result of the meeting of two sciences, namely computers and health. Previously, we knew medical computing, medical informatics, and biomedical computing.
In the era of the Industrial Revolution 4.0, health data is very complex. Population data is generally in the form of structured statistical data, but it is often textual when sourced from social media, clinical data is always increasing in volume every day, tissue and organ data is generally in the form of images, and even gene data is information-rich.
This complex health data cannot be processed by relying on statistical analysis, and must now be studied with Big Data Analytics. "The concept of Big Data and Big Data Analytics is what underlies the development of a new research agenda based on Machine Learning today at FM UI. This development cannot be separated from the milestone development of Health Informatics at FM UI," he said.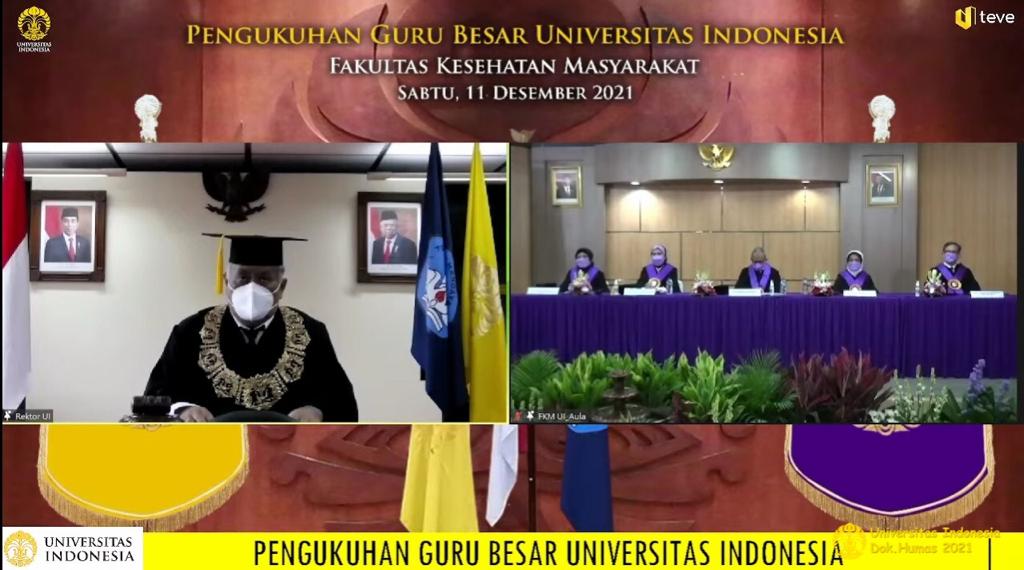 "There are already guidelines for developing Digital Health Interventions, as well as the One Health Data policy, which is an important foundation for the implementation of Big Data Analytics in Indonesia. However, obstacles are still large, such as interoperability and data sharing between health entities that are not yet functioning properly, so the management of Big Data and the use of Big Data Analytics in the health sector is still limited, especially in Indonesia," Kemal said.
"The application of Health Informatics to strengthen the Health System in Indonesia needs to be consistently carried out, including catching up with the implementation of an electronic-based Health Information System, realizing the One Health Data policy, and further deepening research and development of Personalized Health-care and Artificial Intelligence to health sector in Indonesia," he said.
Professor inauguration Prof. Kemal was attended by invited guests, such as Dr. Ir. Luke, MAI, CISA (Indonesia Artificial Intelligence Society), Dr. Hendy Risdianto Wijaya, ST. MT (Indonesia Artificial Intelligence Society), and Prof. Dr. Ir. Lanny W. Pandjaitan, MT., IPU (Indonesia Artificial Intelligence Society and Professor of Atma Jaya Unika).
Prof. Kemal holds a medical degree from UI, a postgraduate degree from UI Public Health, and a Ph.D in Population Research, from the University of Exeter, UK. In his professional career, Prof. Kemal is active as a consultant and member of the research and program design team as well as public health policies with a focus on reproductive health and health informatics.
In the last five years, seven Intellectual Property Rights created by Prof. Kemal have been recorded at therectorGeneral of Intellectual Property of the Indonesian Ministry of Law and Human Rights. The types of Intellectual Property he created in 2021 include Covid-19 Education to the Grassroots with the PARC-19 Strategy in Three Villages in South Jakarta, Module for Using Health PPIA: Android and Web-Based Applications; and Step-by-Step Systematic Literature Review and Meta Analysis Books in the Health Sector.
This post is also available in: Indonesian