"Innovation Award 2022" for Innovators, Start-Ups, and Partners of Universitas Indonesia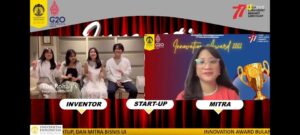 Universitas Indonesia (UI) presented awards based on seven categories to inventors, start-ups, and entrepreneurs.For the "Inventor with the Greatest Social Impact" category, the award was given to Prof. Dr. Ir. Raldi Artono Koestoer for the Baby Incubator and Tommy Christomy, S.S.A., S.S., Grad.Dip., M.A., Ph.D., for the cultivation of Cisadon Coffee. Meanwhile, the "Inventor with Invention for Climate Change Mitigation" category was awarded to the UI Electric Bus Team led by Prof. Dr. Ir. Danardono Agus Sumarsono, D.E.A., P.E., from the Faculty of Engineering UI.
For the "Inventor with the Largest Intellectual Property License Royalty Value" category, there were three inventors who received this award. The 3rd award was given to the Eye Implant Team, Virna Glaucoma Impant by Rohto, led by Dr. Virna Dwi Oktariana Asrory, Sp.M. from the Faculty of Medicine UI. The second award went to the Indonesian SME Team through the Indonesian SME Brand initiated by Dewi Meisari Haryanti, S.E., M.Sc. from the Faculty of Economics and Business UI. The first award in this category was given to the UI Ventilator Team, the Covent-20 Ventilator, represented by Dr. Basari, S.T., M.Eng.
The awards for start-ups were given to Flip.id as "Start-up with the Largest Valuation" represented by Rafi Putra Arriyan as CEO and Co-founder of PT Fliptech Lentera Inspirasi Pertiwi, and Maskit as "Start-up with the Highest Revenue Growth" received by Yolla Miranda as Founder and CEO of PT Sainsgo Karya Indonesia.
Awards to partners were divided into two categories. The first, "Business Partner with the Most Collaboration with UI", was awarded to PT Kimia Farma Tbk, represented by General Manager of Research and Product Development, Dyah Juliana Pudjiati. The second category, "Business Partner with the Largest Royalty Payment", was awarded to three partners, namely CV Bartec Utama Mandiri, Bartec Group represented by Hadi Pranoto, S.T.; PT Indonesia Tumbuh Inklusif (ITI) received by Dewi Meisari Haryanti, S.E., M.Sc.; and PT Rohto Laboratories Indonesia represented by Tham Mukdaya Massidy.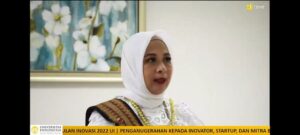 On that occasion, UI Vice Rector for Research and Innovation, drg. Nurtami, Ph.D., Sp. OF(K), said the award ceremony was based on UI's efforts as an academic institution to increase the capacity of human resources and UI academicians through the quality and quantity of UI research and innovation products. "UI as an educational institution also has a responsibility to create an innovation ecosystem supported by many reliable human resources. Therefore, Innovation Month is an annual routine activity to support and provide a platform for inventors, start-ups, and industrial partners at UI.," said drg. Nurtami.
In addition to the Innovation Award 2022, in this year's Innovation Month celebration UI organized launching activities, a series of webinars, and stand-up innovation filled by experts. In the series of webinars held on August 22-24, there were seven topics discussed in the discussion, namely "Peel Through the World of Start-ups", "UI Start-up Ecosystem and Its Impact", "Renewable Energy and Emerging Technologies", "Sustainable Manufacturing of Advances Materials", "Royalties Don't Have to Be Patents, Brands Can Too", "Strengthen the Role of Industrial Partnership in Innovation", and "The Risk and Benefits of Investing Start-ups".
Furthermore, Stand-up Innovation held on August 25-31, 2022, DISTP UI presents experts in various fields of science related to innovations that have a broad impact on society. The topics and speakers in this session were "Smart Land Surveillance System" by Ahmad Gamal, Ph.D.; "Covent-20: UI Portable Ventilator" by Dr. Basari, S.T., M.Eng; "Realizing Technology Independence for the Nation" by Dr. Ir. Feri Yusivar, M.Eng.; "Hungry? Catering at Eatever" by Dian Widayanti, S.T., M.T.; "Electric Bus as Future Vehicle" by Dr.-Ing. Mohammad Adhitya, S.T., M.Sc.; "KODC Dengue" by Dra. Beti Ernawati Dewi, Ph.D.; and "Home Incubator for Premature Babies" by Prof. Dr. Ir. Raldi Artono Koestoer, DEA. The webinar and stand-up innovation can be watched in full on UI Youtube and UI Teve.
UI through the Directorate of Innovation and Science Techno Park (DISTP) organized "UI Innovation Award UI Innovation Month 2022" as a form of support for inventors, start-ups, and UI partners in creating intellectual property (IP) that is useful for the people of Indonesia. This event was held virtually through the Zoom and Youtube platforms, on Wednesday (31/08), and was the culmination of a series of Innovation Month activities entitled "7 Webinars, 7 Standup Innovation, 77 Years of Independence" which was held on August 19-31, 2022.
Innovation Month is UI's effort to carry out the Tri Dharma of Higher Education and UI's participation in the 77th Anniversary of the Independence of the Republic of Indonesia, the 27th National Technology Awakening Day, and Indonesia's G20 Presidency. This year, UI Innovation Month raised themes around the world of start-ups, new and renewable energy, advanced materials, health, pandemic recovery, royalties and licensing of intellectual property commercialization, industrial collaboration, and partner investment that encourages the improvement of startups and research and innovation products.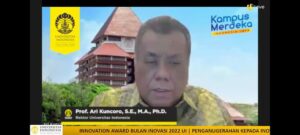 According to the Rector of UI, Prof. Ari Kuncoro, S.E., M.A., Ph.D., UI is making various efforts to encourage increased research and innovation for technological advancement and human resource development in order to lead to entrepreneurial university. "Hopefully this activity can provide benefits in welcoming Indonesia's G20 Presidency and can be an input in the development of science, both within UI and nationally and internationally," said Prof. Ari.
Director of DISTP UI, Ahmad Gamal, S.Ars., M.Si., MUP, Ph.D., DISTP UI plays an active role in encouraging the birth of innovative products and technology-based startup companies in the UI environment. "Through Innovation Month, DISTP UI presents a series of activities that encourage the rise of national technology 2022. We present various webinars, to enrich information related to innovation development, intellectual property, business incubators, and investment for startup companies, as well as cooperation and licensing of intellectual property in various UI industry partners," Gamal said.
This post is also available in: Indonesian