Imagine The Future, Fill In The Gaps
Amount of Cumulative Intellectual Property 2015-2021
2015
2016
2017
2018
2019
2020
2021
UI Innovation Focus based on Patent Concentration in 2020-2021
Rekayasa Keteknikan
Kesehatan
Transportasi
Kemaritiman
Energi
Pangan
Pertahanan Kemamanan
Lintas Disiplin
Social Humaniora
The management of an organization requires a comprehensive plan that can translate the organization's vision into clear, measurable, and concise stages of activities for the parties involved.
The roadmap is a strategic planning instrument that maps out the organization's vision and the strategies needed to make it happen as a guide for the parties.
The Innovation and Science Techno Park Roadmap is a strategic planning document prepared by the Directorate of Innovation and Science Techno Park, Universitas Indonesia (UI) to realize the vision of developing Innovation and Science Techno Park UI for the next 5 years (2020-2024).

The Directorate of Research and Development (RnD) is a directorate within Universitas Indonesia's Administrative Center with the main task of managing multidisciplinary, intradisciplinary, and transdisciplinary research and development activities within Universitas Indonesia.
Applications for patents for innovations/inventions made by researchers at Universitas Indonesia can be found on the website of the Directorate of Innovation and Science Techno Park, Universitas Indonesia, which is also often abbreviated as DISTP.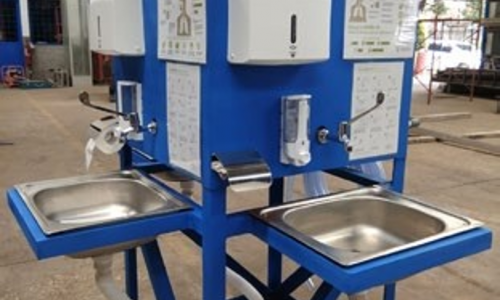 MHW (Movable Hand Washer) FEUI
Product Description
One of the efforts to prevent the spread of COVID-19 is a clean and healthy lifestyle, such as diligently washing hands using soap and running water. Washing hands can prevent the entry of viruses and other bacteria into our bodies.
The collaboration between the Faculty of Medicine, Universitas Indonesia (FMUI) and the Faculty of Engineering, Universitas Indonesia (FEUI) which is fully supported by the Alumni Association (ILUNI) of FMUI and ILUNI FEUI has succeeded in developing a portable hand washing device called "Moveable Hand Washer (MHW)".
The existence of this tool is expected to prevent and stop the chain of transmission of COVID-19 in the community. The presence of this tool can also be an alternative solution if there is a shortage of hand-sanitizer.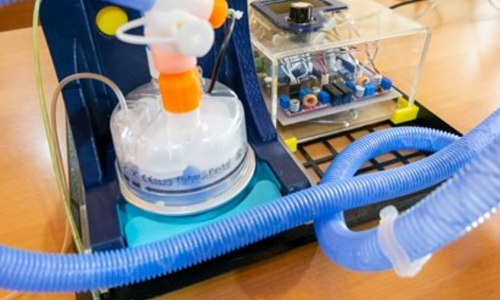 High Flow Nasal Cannula (HFNC)
Product Description
Amidst the COVID-19 pandemic situation, the Faculty of Engineering at Universitas Indonesia, the Faculty of Medicine at Universitas Indonesia, the Friendship Hospital and the Industrial Polytechnic of the Industrial Mechanical Engineering Academy (ATMI) Cikarang collaborated to develop a high-flow oxygen therapy device. The high-flow oxygen therapy (HFOT) method is one of the non-invasive methods that can be used to assist the breathing of COVID-19 positive patients in the early stages.
One way to deliver high-flow oxygen to patients is to use a nasal cannula, therefore a device that works using the HFOT principle is often referred to as a High Flow Nasal Cannula (HFNC).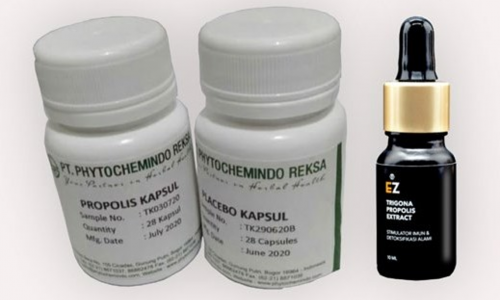 Indonesian Propolis as a Covid-19 Therapy
Product Description
This Indonesian propolis comes from the stingless bee Tetragonula spp. from South Sulawesi. This propolis has been shown to have immunomodulatory, anti-inflammatory activity so it can be used as a supplement to increase endurance.
This Indonesian propolis is being tested as a complementary therapy in the treatment of COVID-19. Apart from Indonesia, propolis is also being clinically tested in Brazil.
Currently several countries are developing drugs and vaccines for COVID-19. One of them is China which develops drugs based on research published by Prof. Yang from Shanghai Tech University in January 2020.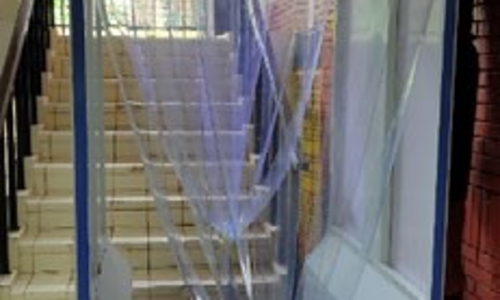 DISINFECTION BOOTH (PUVICON BDC-01/02)
Uses and Working Principle
The BDC-01/BDC-02 Disinfection Booth is specially designed as a space for disinfection and sterilization of the "external human body", i.e. clothing and skin or outer body (including hair, head, eyes, nose, mouth, hands and feet) without using a liquid form of disinfection and sterilization media in such a way that the body can be free from microbes (viruses and fungi) within a certain time of exposure to disinfection and sterilization which is measured and applied in the Disinfection Chamber.
Disinfection Media
The disinfection and sterilization medium used is in the form of "cold gas and plasma" which is processed with PUVICO3 Technology, namely air cleaning and sterilization as well as mild ozonation (mild ozonation) followed by continuous and simultaneous injection of Plasma Anions (negative ions) in the LTC (left trapezoidal space) and RTC (right trapezoidal space).
Inside the LTC, a 254 nm 36 W UV-C TL lamp and an Anion Plasma Generator are installed which are capable of producing particles (ions) of more than 20106 negative ions per cm³ along the path it travels.
COVID – 19 Swab Test Booth
Product Description
The UI COVID-19 Swab Test Booth Research Team consisting of various disciplines (from the Faculty of Medicine, Faculty of Engineering and UI Hospital) developed a swab-test booth aimed at meeting the work safety needs of medical personnel.
With this swab booth, it will reduce the use of PPE which is less comfortable to be used for hours by medical personnel.
The use of this booth is expected to overcome this problem because medical personnel no longer need to wear level 3 PPE. The cubicle materials used have different types according to their needs, which are aluminum frames to make them light and rust-resistant, HPL (High Pressure Laminate) as cubicle walls so they cannot absorb liquids and are easy to clean, and acrylic as an interface panel because it is relatively harder to break compared to glass materials.
The swab booth is equipped with an air control system so as to produce positive pressure in the chamber with air control conditions such as in the operating room. Positive pressure in the swab chamber is obtained from the FFU (Fan Filter Unit)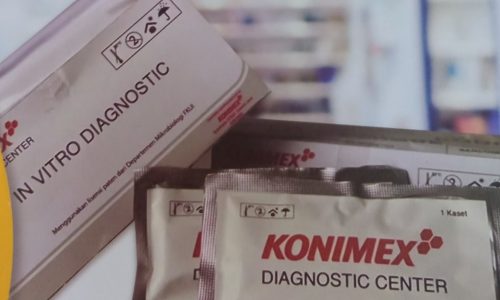 KODC DENGUE
Product Description
KODC DENGUE is an early and rapid in vitro diagnostic kit for the infection of dengue virus (DENV) developed by PT Konimex using a patent license from the Department of Microbiology FMUI and IMERI.
The KODC DENGUE detection system based on the detection of the NS-1 DENV protein was developed using an Indonesian strain of DENV-induced antibody. This tool is expected to be able to detect the DENV virus circulating in Indonesia. Some of the advantages are: First, it is fast because it only takes 15 minutes to determine the presence or absence of a DENV infection.
Second, it is sensitive because it is based on the DENV strain circulating in Indonesia. Third, it is specific because it was developed based on the DENV epitope which does not cross-react with other viruses. Fourth, it is relatively cheap because of domestic production, and can also detect DENV infection with various types of specimens, namely plasma, serum, and whole blood.
KODC DENGUE has the potential to be used by all residents in the tropics who are at risk of dengue infection. This product can be applied in hospitals, clinics, or laboratories that have facilities for taking blood from patients.
2021 Kaleidoscope Field of Research & Innovation
This post is also available in: Indonesian