The Most in Indonesia, 221 UI Students Pass the Selection as Awardees of the 2022/2023 International Student Mobility Awards Scholarship Program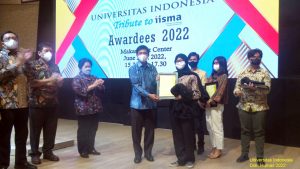 A total of 221 Universitas Indonesia (UI) students from various study programs passed the selection of the Indonesian International Student Mobility Awards(IISMA) scholarships for the 2022/2023 period. IISMA is a scholarship program from the Indonesian government for undergraduate students to take part in mobility programs at reputable universities abroad. This program is managed by the Directorate General of Higher Education; Ministry of Education, Culture, Research and Technology (Kemendikbudristek). This program aims to provide opportunities for students to develop competence and knowledge as well as provide study experiences at foreign universities as the implementation of the Merdeka Belajar-Kampus Merdeka Program.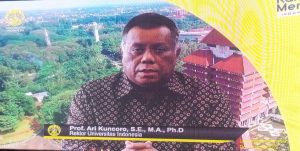 UI Rector, Prof. Ari Kuncoro, S.E., M.A., Ph.D., said that the number of students enrolled and accepted into the IISMA program increased rapidly. In 2021, only 97 students have passed the IISMA program. The increasing number of participants who pass IISMA shows that UI is able to compete not only at the national level, but also at the international level. UI is always committed to making various efforts to improve its ranking reputation, both in the QS University Ranking, THE World University Ranking, Webometrics, and in other rankings.
"The student exchange program, known as IISMA, is an effort to improve the university's reputation. The students who pass are UI agents who open up new opportunities to collaborate, both in terms of academics, student affairs, and research. We hope that IISMA awardees can take advantage of this opportunity well, expand their association, and prove to global universities that UI students are qualified and able to compete," said Prof. Ari in his speech at the "Soft Launching Pre-School and Build Your Career Program", on Tuesday (21/06), at the Makara Art Center UI Auditorium.
The increasing number of students who pass the IISMA 2022 program cannot be separated from the role and collaboration of three work units at UI, namely the Center for Independent Learning (CIL), the Directorate of Student Affairs, and the Office of International Affairs. As stated by the Head of CIL UI, Astha Ekadiyanto, S.T., M. Sc., thanks to this collaboration, UI has become a leader in Indonesia as a university capable of sending students to various top global universities, such as the University of British Columbia, The University of Pennsylvania, University College London, The University of Edinburgh, Nanyang Technological University, University of Melbourne, University of Auckland, and Korea University.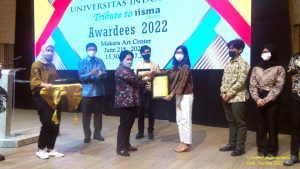 The presence of UI students in the IISMA program has made UI proud in the international arena by providing the best results. Later, IISMA participants will study for 20 Credit Units for one semester at selected global universities. This year, UI sent 221 UI students to the IISMA program; 195 undergraduate students and 26 vocational students. This number is not too far from the total UI students who registered for this program. There were 745 UI undergraduate students and 63 UI Vocational students who applied for the IISMA 2022 program. This number has increased 5 times from the previous year and is also the university with the most registrants in Indonesia.
"UI has taken almost 20% of IISMA positions in 2022. This program, apart from providing opportunities to study, also teaches other things, such as the culture of the host country. I fully appreciate and support selected students who will develop their potential. I hope that by 2045, they can become researchers, officials, and other professions who can make UI and Indonesia proud," said UI Deputy Chancellor for Academic and Student Affairs, Prof. Dr. rer. Nat. Abdul Haris.
To run this program, UI also provides support in the form of socialization on campus and assistance with English language tests for IISMA UI 2022 scholarship applicants. Because the IISMA program does not cover the cost of the English language proficiency test, many underprivileged students are hesitant to join this program. "Therefore, with the presence of assistance from UI Student Affairs, it is hoped that students can maintain their enthusiasm to carry out knowledge at well-known universities, both in America, Asia, Australia, and Europe," said Director of Student Affairs UI, Dr. Badrul Munir.
UI is open to help students who experience coordination and financial problems. One example is, during the Covid-19 pandemic last year, many UI students abroad experienced various obstacles. As a form of support, both CIL, the Directorate of Student Affairs, and the Office of International Affairs work together to find solutions.
The "Soft Launching Pre-School and Build Your Career Program" activity which was also attended by the Head of the International Affairs Office, Baiduri Widanarko, M.KKK, Ph.D., was closed with the submission of certificates and UI jackets as UI's appreciation and support to 221 IISMA awardees of 2022. This activity was also enlivened by gamelan music from students of Javanese Literature Faculty of Humanities (FH) UI, performances of the Dance League, and song performances from students. On that occasion, the recipients of the IISMA 2021 program; Elzi Sirkan Muhammad, Amanda Arthaameivia Joesoef, and Sultan Rafi; also shared their interesting experiences while studying abroad with IISMA 2022 participants.
This post is also available in: Indonesian