Universitas Indonesia Vocational Program will Hold "The 5th International Conference on Vocational Education Applied Science and Technology (ICVEAST)
After being delayed due to the pandemic, this year the Vocational Education Program at the Universitas Indonesia will hold a conference "The 5th International Conference on Vocational Education Applied Science and Technology (ICVEAST)" on October 26-28, 2022 in a hybrid manner. This international forum is a platform for researchers, academics, and practitioners. The theme of the fifth conference was "Attaining Sustainable Development Goals through Innovative Technological Research in Vocational Higher Education".
The conference, previously known as the International Conference on Vocation for Higher Education (ICVHE), will collaborate with a number of world-renowned academics as keynote speakers, namely Prof. Benny Tjahjono, Ph.D (Coventry University, UK), Prof. Feifei Xu (Southeast University, China), Prof. Ts. Dr. Mohamad Sattar Rasul (Universiti Kebangsaan Malaysia, Malaysia), Prof. Peter Bath (University of Sheffield, UK), Padang Wicaksono, S.E., Ph.D (Universitas Indonesia, Indonesia), and Dr. Roos Geritsma (Hogeschool Inholland, The Netherlands). Universitas Indonesia's Vocational Program rebranded the name of the conference with a change in focus to applied education, especially in applied science and technology.
Chairperson of The 5th ICVEAST, Dr. Poeti Nazura Gulfira Akbar, S.T., M.Sc., said the conference aimed to gain insights on higher education and applied scientific development in utilizing digital technology to help achieve the 17 UN Sustainable Development Goals (SDGs) and support global economic recovery. "This is also in line with the central issues of the G20, particularly Education Working Group (EdWG) which focuses on the importance of preparing adaptive graduates. Researchers and policymakers in applied higher education must identify the impacts of digital transformation on economic, social and environmental development, and explore options for action to ensure that socio-technical transformation processes promote sustainable development and social justice," Poeti explained.
Three sub-topics will be raised in this conference, namely Fostering Economic Resilience and Building Future Enterprise through Technological Innovations; Digital Technology to Increase Competitive Advantage and Quality of Product and Services; and Big Data Utilization and Technology Application in Integrated Health Services to Improve Community Wellbeing. Poeti added, "As an interdisciplinary approach, The 5th ICVEAST will raise issues from these sub-topics based on technical, economic, social, and environmental science perspectives that actively involve stakeholders from the field, especially from the perspective of vocational higher education as a pillar of national development."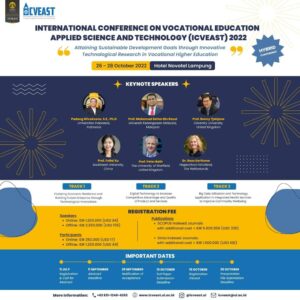 On the same occasion, Universitas Indonesia Vocational Education Program Director, Padang Wicaksono, S.E., Ph.D, said that the conference was an effort made in order to realize the vision and mission of Universitas Indonesia Vocational Program to has a world class university quality. "Collaboration between lecturers and international academics and practitioners can occur through networking at the conference. I hope that Universitas Indonesia's Vocational Program lecturers, together with international academics, can continue to contribute to developing research and innovation in applied education globally," said Padang.
The Universitas Indonesia Vocational Education Program invites researchers, academics, and practitioners to present their scientific work at The 5th ICVEAST 2022. The following is the timeline of The 5th ICVEAST 2022, Registration starts July 11 – October 15, 2022; Call for Abstract: July 11 – September 11, 2022; Notification of Acceptance: September 29, 2022; Full Paper Submission Deadline: October 13, 2022; and Presentation File Submission Deadline: October 20, 2022. For more information on the conference, please visit https://icveast.ui.ac.id/.
This post is also available in: Indonesian