Universitas Indonesia's Public Relation and ILUNI achieve award in "The 7th PR Indonesia Award"
Universitas Indonesia (UI) and Universitas Indonesia Alumni Association success in achieving award in the Public Relations Indonesia Awards (PRIA) 2022 The award is announced in the event entitled "The 7th Public Relations Indonesia Awards–Collaboration to improve the nation spirit, that is held in Semarang, Jawa Tengah, Friday (25/03)
In Higher Education Category, Universitas Indonesia gets an award for the conventional publishing media and websitesub-category. UI Magz XVII 2021 edition won a silver winner, meanwhile websiteUniversitas Indonesia won a bronze winner. While, ILUNI UI won an award for the sub-category of application and digital Public Relation. The program of Concert 7 Room ILUNI UI successfully achieved Silver Winner, while the UI Connect application gotbronze winner.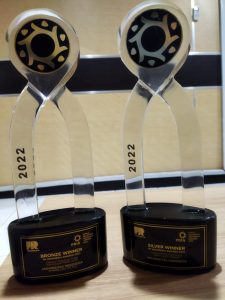 The head of Public Relation and Information Universitas Indonesia, Dra Amelita Lusia, M.Si CPR, said, "We hope this award can be motivation and a trigger for Universitas Indonesia to continue giving benefits to Indonesia."
PRIA is the most comprehensive Public RelationPerformance Competition in Indonesia. This event seeks inventions from PR practitioners in Indonesia from various instantions. Thousands of corporations, ministries, institutions, and regional governments are involved in this event as a form of appreciation for the field of public relations.
The jury involved in this year's award include the Founder and CEO of PR Indonesia Group, Asmono Wikan; President Director Prominent PR, Ika Sastrosoebroto; Founder and CEO Cprocomm, Emilia Bassar; President Director of IPM Public Relations, Maria Wongsonagoro; Communication Director Rajawali Foundation, Fardila Astari; President PR Society, Magdalena Wenas; dan Account Director Digital Weber Shandwick, Dian Adi.
In the seventh year of the PRIA, PR Indonesia Group has set a category to compete in. Some of them are digital channels, company reports, PR programs, and corporate social responsibility (CSR) programs. This competition is expected to provide impetus for PR in all lines, both agencies and corporations, to play a strategic role as a catalyst for all changes, including the resurgence due to the Covid-19 pandemic.
This post is also available in: Indonesian