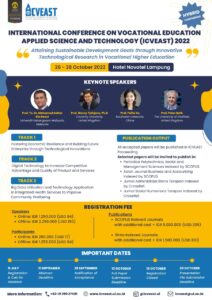 5th ICVEAST 2022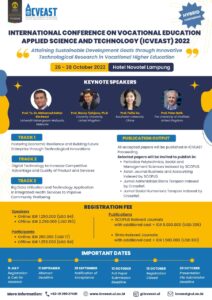 [ ICVEAST 2022: KEYNOTE SPEAKERS ]
Introducing our keynote speakers for the 5th ICVEAST 2022 to explain more about attaining sustainable goals through innovative technological research:
🇬🇧 Prof. Benny Tjahjono, Ph.D. (Coventry University, United Kingdom)
🇨🇳Prof. Feifei Xu
(Southeast University, China)
🇲🇾 Prof. Ts. Dr. Mohamad Sattar Rasul (Universiti Kebangsaan Malaysia, Malaysia)
🇬🇧 Professor Peter Bath
(University of Sheffield, United Kingdom)
the 5th ICVEAST will be held on 26—28 Oct 2022.
for more information, kindly visit our website icveast.ui.ac.id and @icveast.ui on Instagram.
This post is also available in: English