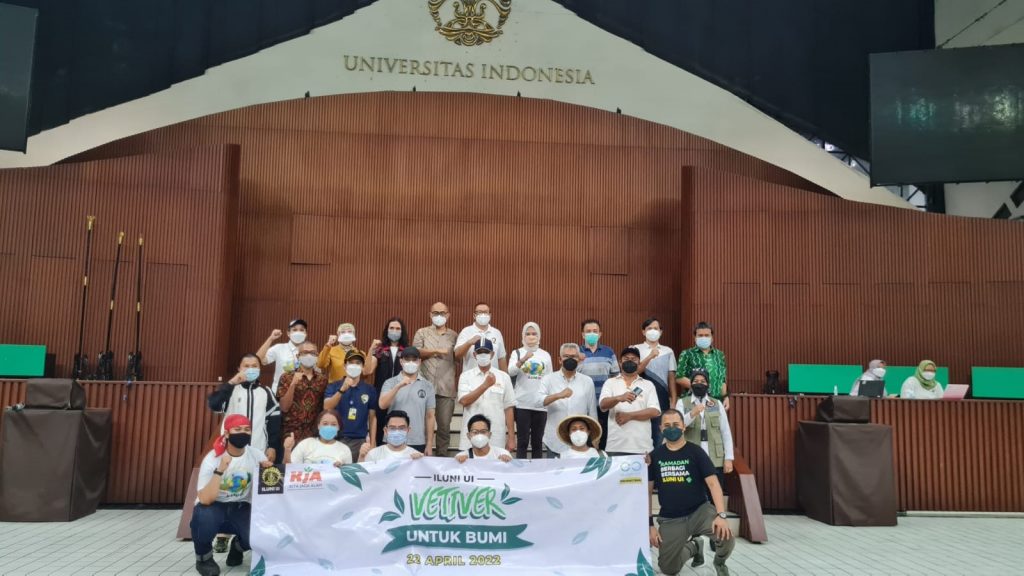 Depok, 22 April 2022 – The Association of Alumni, Universitas Indonesia (ILUNI UI), through its Community Development Center and Alumni Peduli Center (APC), launched a programme that will see the planting of 5000 Vetivers (Vetiveria zizanioides) around Danau Puspa, UI Depok. The Chairman of the Association, Andre Rahardian, explained that the programme was launched on the occassion of this year's Earth Day.
"Considering the theme of Earth Day 2022, [that is] Invest our Planet, ILUNI UI attempts to take part in protecting the Earth by staking an 'investment' in support of the Sustainable Development Goals," Andre stated in the keynote of the inauguration on Friday (22/4).
In addition, Andre stated that this programme showed ILUNI UI's commitment to take part in maintaining UI's environment. Six lakes lie within UI's ground, one of which being Danau Puspa. These lakes serve, among many other functions, as reservoirs controlling the speed of water flowing down from Puncak, Bogor to Jakarta. The high rate of water flow has been the cause of silting due to sedimentation, which, in turn, causes surrounding areas to become susceptible to landslides.
Andre emphasised the importance of emphasising Environmental Social Governance (ESG) in carrying out development programmes. The programme, named "Vetivers for Earth", involved the participation of various parties. Yayasan Kita Jaga Alam (KJA), an environmental foundation, provided vetiver seeds for the programme.
"It is hoped that the programme may become a concrete solution for the maintenance and devlopment of UI's natural environment. Preservation and maintance of water is part of the G20 Presidency. This is our role, [and] we intend to work with several stakeholders, such as KLHK, BNPB, and organisations like KJA," Andre explained.
The chairman of the Board of Supervisors of Yayasan Kita Jaga Alam (KJA), Doni Monardo, expressed his appreciation and gratitude for the inauguration of Vetivers for Earth. Earth Day, he stated, is a momentum to reflect on efforts that has been contributed towards protecting the Earth. Vetivers, plants shaped like reeds, are effective protectors of the soil due to their fibrous root, which extends as deep as several metres into the earth.
"Today, by planting these trees, we are reminded of the importance of taking careof the Earth together. This cannot be done alone. We all must lend a hand in keeping [the state of] the Earth from deteriorating.
KJA Chairman Egy Massadiah, who is also a senior journalist, expressed his commitment to support Vetivers for Earth. "In Vetivers for Earth, held on the occasion of the Earth Day, 22 April 2022, in UI's campus, we provided support in the form of 5000 vetiver [seeds] to be planted inside UI, in particular around UI's lakes," he stated.
The Director of the Development of Graduate Careers and Alumni Relations UI (DPKHA UI), Ir. Ahmad Syafiq, MSc, PhD. expressed his appreciation of initiations taken by ILUNI UI to protect UI's environment. This programme, according to Ir. Ahmad, shows ILUNI UI and UI's concern towards the environment and sustainable development. In 2010, he explained, UI pioneered UI Green Metric, an indicator that encourages universities to pay care and concern for the environment.
"To be a smart and green campus is our utmost hope. Our gratitude towards ILUNI for this extraordinary activity, a proof that we have the awareness to take care of the Earth."
The chairman of the Community Development Center, ILUNI UI, Indri L. Juwono, stated that the programme is one among several breakthroughs that employ nature-based solutions and include the participation of environmentalist communities based in UI. Other communities involved with ILUNI UI in this programme are represented by the Student Regiment (Menwa UI) and Kamuka Parwata (KAPA), part of the Faculty of Engineering, UI (FTUI).
"With the participation of other environmentalist communities in UI, we organised a Community Commitment to be always involved in protecting the Earth and taking care of UI's environment. We hope that this programme does not stop today, but that efforts to protect the environment can be carried out on a continuous basis," stated Indri.
The chairman of the APC, Missi Lawalata, meanwhile stated that in the future, ILUNI UI plans to plant vetiver seeds in several other locations. "Vetivers are very much needed to prevent sedimentation. The planting of vetiver seeds will resume after today, until all seeds have been planted around Danau Puspa," he closed. (*)
This post is also available in: Indonesian