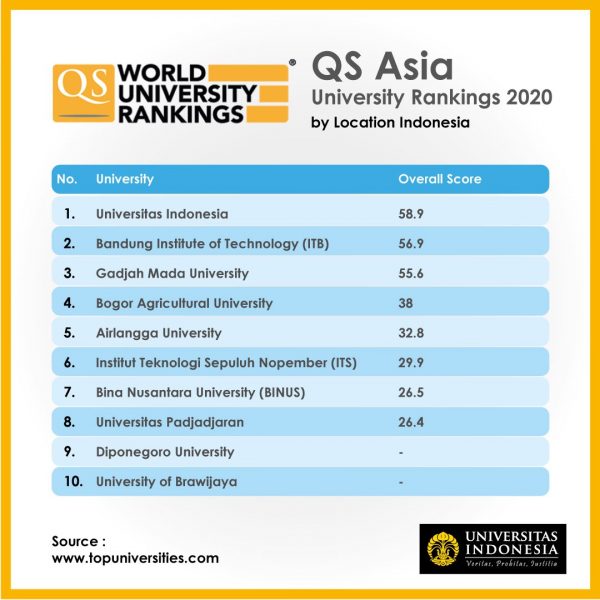 The success of the Universitas Indonesia (UI) as the best tertiary institution in Indonesia was again appreciated by the prestigious world rating agency Quacquarelli Symonds (QS).
UI was ranked 59th in Asia based on the QS Asian University Ranking 2020 which was conducted on 550 universities across Asia. QS released the rating on Wednesday (27/11) through the site http://www.topuniversities.com/university-rankings.
UI again excels in the "International Faculty" indicator which indicates that academics and researchers from abroad are interested in sharing knowledge and conducting research at UI.
As of the past five years, UI has 3,784 foreign lecturers who come to UI for various academic programs, such as visiting scholars, guest scholarships and guest lectures.
Furthermore, the next leading indicators are Inbound and Outbound Exchange. As many as 7,892 foreign students have been recorded throughout the five years since 2015 or as many as 1,499 foreign students in 2019 enjoy various academic programs (full degree, semester-based and non-semester-based) at UI with countries of origin including Korea, Japan, Australia, the Netherlands, and Malaysia.
Likewise, since 2015, as many as 6,888 UI students (or 1,678 UI students in 2019) have gone abroad to participate in various academic programs and competitions at the international level.
As an internationalization effort, UI has also collaborated with more than 500 domestic partners and more than 200 foreign partners with the most partners coming from Japan, South Korea, Australia, Taiwan, the United Kingdom, and China.
The achievement of UI is inseparable from the fulfillment of all parameters. Based on the results of calculations made by the QS team, UI is also superior in the Quality of Educators, Academic Reputation, Number of Foreign Educators in UI and Teaching and Learning activities in each faculty.
In addition, other indicators that were successfully met included a significant increase in journal publications. At the end of 2019, UI was also named as the first College in Asia with the highest publication growth in Scopus.