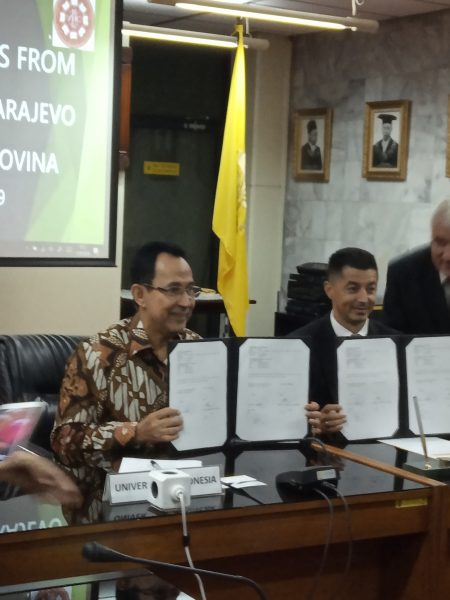 On Wednesday (07/17/2019) yesterday a cooperation agreement was signed and a delegation from the University of East Sarajevo visited in order to collaborate on improving the quality of the academic field which will be carried out by two universities from Indonesia and Bosnia and Herzegovina.
Located in Meeting Room A, Central Administration Building of the UI, also attended the Rector of the Universitas Indonesia, Mr. Prof. Dr. Ir. Muhammad Anis, M. Met, Indonesian Ambassador to, Ms. H. E. Amelia A. Yani, as well as officials from the University of Indonesia and Bosnian embassy staff.
Before the signing ceremony took place, the event began with remarks from the Rector of the UI. He explained the outline of the description of the Universitas Indonesia, starting from the introduction of faculties, educational programs, environmental conditions of the University of Indonesia, to the number of current UI students.
The next speech was from Ms. Amelia as the Indonesian Ambassador to Bosnia. He conveyed his impression while serving in the country of Bosnia. According to him, the country of Bosnia is a calm and beautiful country, so the people and students there can comfortably live and certainly learn. He is happy if the campus is as high as a Universitas Indonesia can cooperate with one of the campuses in the country of Bosnia, namely the University of East Sarajevo, because it is hoped that this can improve good relations between the two countries.
The next session was the signing of a document by the UI Rector, the head of the Brcko District delegation, Mr. Damir Bulcevic, and Dean of the Faculty of Economics and Business, Universitas Indonesia, Prof. Ari Kuncoro, S. E., M. A., Ph. D.
This document is a symbol of the inauguration of the commencement of cooperation between the University of Indonesia and the Universiry of East Sarajevo. The event continued with a discussion about the cooperation and development of each university. The event ended with the end of the discussion marked with several results that had been obtained well and wise considerations.