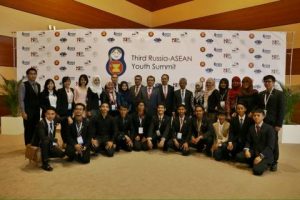 16 from 270 applicants were chosen as delegation from Indonesia for The 3rd Russia-ASEAN Youth Summit at   Far Eastern Federal University, Vladivostok, Russia, on October 8th to 11th 2015. 7 persons among them were UI students, consisted of Alfajri Putra (FIB 2011), Athifah Mukminah (FIB 2014), Bagus Anugerah Yoga Pratomo (FIB 2014), Dias Khadijah Kinanthi (S2 FISIP 2014), Luqman Hakim (FEB 2011), Ilham Arfakhsadz Putra (FH 2013), and Yusuf Firdaus Ramadhan (FIB 2014).
The event that brought up "Young Russia-Young ASEAN: Expanding Regional Connection" theme was participated by more than 100 delegations who were come from Russia and ASEAN countries. In three days, delegations were involved in plenary session, focus group discussion (FGD), and Russian language master class. On FGD session, participants were divided into 3 groups. Each group discussed different issue regarded Russia-ASEAN relationship on economy, politic, and socio-culture.
Besides presentation from delegations and professionals who became keynote speakers, the activity on FGD were formulating recommendations to be applied by Russia and ASEAN in order to improve cooperation between those two regionals. Among of ideas that was quickly acceptable was visa exemption that will be applied on January 2016 for ASEAN citizens who has business intention to Vladivostok and other cities that is included in Primorsky Kray Province of Russia.
This event was also attended by numbers of state officials, academics and politicians from Russia and ASEAN countries. Among of them were Alexander Ivanov (Russia Ambassador for Asia Pacific),  Djauhari Oratmangun (Indonesia Ambassador for Belarus and Russia Federation) Dr. Victor Sumsky (Director of ASEAN Center), Iwan Suyudhie Amri (Director for ASEAN Economic Cooperation), I Gede Ngurah Swajaya (Permanent Representative/Ambassador Extraordinary and Plenipotentiary of the Republic of Indonesia to ASEAN), Rosario G. Manalo (Philippine Representative of ASEAN Inter Governmental Commission on Human Right), Dr. Natalia Stapran (Director of Russian APEC Study Center at  Russian Presidential Academy of National Economy and Public Administration (RANEPA)), Prof. Kriengsak Chareonwongsak (Former Adviser to the Prime Minister of Thailand and Thailand Parliament Member), and Oudet Souvannavong (Co-Chairman of ASEAN Business Advisory Council).