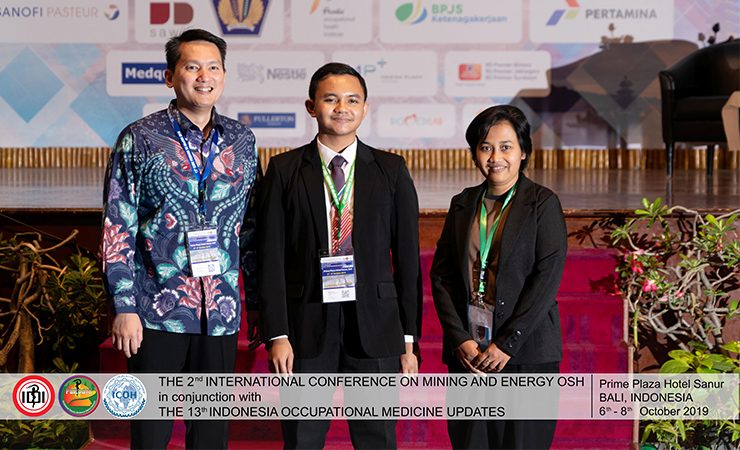 Muhammad Habiburrahman, S.Ked (Faculty of Medical Student Class of 2015) won the "Best Oral Presentation" award after presenting his scientific work at The 2nd International Conference on Mining Occupational Safety and Health – International Commission on Occupational Health (MinOSH-ICOH) and The 13th Indonesian Occupational Medicine Update (IOMU) which was held at the Prime Plaza Hotel in Sanur, Bali, on 6-8 October 2019.
Habib presented his scientific work entitled "The Impact of Sleep Deprivation on Work Performance towards Night-Shift Workers: An Evidence-Based Case Report."
The scientific work is part of the Evidence Based Case Report (EBCR) when Habib and his three colleagues namely Fadhilah Harmen S. Ed, Elvira Lesmana S. Ed, and Nadya Gratia, S. Ed. Went through the preclinical phase in the Evidence Based Medicine module with the guidance of Dr. dr. Listya Tresnanti Mirtha, SpKO.
This scientific work describes the effect of lack of sleep, both in terms of quality and quantity, on various parameters of the work performance of people who work night shifts.
In this case, it is illustrated that nurse patients who work night shifts often complain of symptoms of insomnia, difficulty concentrating, and even because they are too sleepy, they are punctured by needles. Of course this is closely related to the lives of medical personnel who might decrease work performance due to the effect of lack of sleep.
"Based on the illustration of the case, we made this EBCR with the aim of investigating what things are affected and how the pathophysiological mechanisms of our body's biological systems can explain these phenomena. In this EBCR work performance is affected one of which is work productivity and safety, "explained Habib.