Sri Mulyani and Airlangga Hartarto discuss Global Economic Recovery Efforts at UI International Conference on G20
The Minister for Finance of Republic Indonesia, Sri Mulyani Indrawati, S.E., M.Sc., Ph.D., and the Coordinating Minister for Economic of Affairs of Republic of Indonesia Dr. (H.C.) Ir. Airlangga Hartarto, M.B.A., M.M.T., M.T., presented as keynote speaker at Universitas Indonesia (UI) Interational Conference on G20 entitled "Boosting Indonesia's Role in G20 Presidency 2022" which was held offline and online, at JW Marriott Hotel, Jakarta, and live broadcasted on UI's YouTube channel, Thursday (16/06).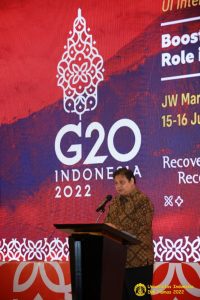 Airlangga explained that the new challenge of the post-pandemic economy recovery is 5C Challenges. The five challenges are Covid-19, Conflict in Ukraine, Climate Change, Commodity Price Increase, dan Cost of Living. "Indonesia's G20 Presidency Mandate underscores the hope for leadership in mobilizing collective and massive global action. As the inaugural global economic forum, the G20 under the leadership of Indonesia can formulate political guidelines to fulfill the SDGs." Furthermore, Airlangga explained that Indonesia is focusing on the three priority affairs at KTT G20 2022, which are global health architecture, digitalization-based economic transformation, and energy transition,
"To make the recovery more powerful, we need to create a more accessible economic resources. We need to increase the income of general public which of whom have experienced a decrease in their income due to Covid-19 restrictions. We must help developing countries who need more than 1.2 trilion per year for their social welfare fund," said Airlangga. G20 Presidency underscores the significant of each country's inclusive collaboration so that every citizens, including the vulnerable group can get the benefits from the actions, policies, and recommendations of G20. This year Indonesia has the momentum to deliver an international legacy through the G20 Presidency.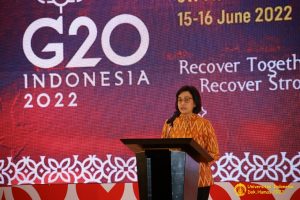 The second keynote speaker, Sri Mulyani Indrawati said, "This is a very appropriate and interesting time as well as challenging both in terms of time and the situation that we must manage, especially for Indonesia holding the G20 Presidency. Because today's global situation is changing very dramatically and we must face uncertainty. As we all know, 2022 is expected to be a recovery year. Therefore, when Indonesia decided to take over the G20 Presidency from India, we carried the theme of recovering together, recovering stronger," he said.
Sri Mulyani also expressed her appreciation to UI which became part of the G20 Presidency and has played a significant role during G20 process. UI has many academicians who dedicate their lives and always think ahead. These academics can provide solutions to various issues currently being faced by Indonesia and the world. "If we all put in efforts and energy to address issues that are strategically important for humans and humanity in the world, then UI will truly become the Nation's Teacher," said Sri Mulyani.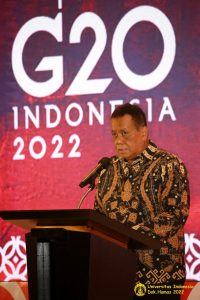 Rector of UI, Prof. Ari Kuncoro, S.E., M.A., Ph.D enthusiastically welcomed the presence of the two keynote speakers who are also UI alumni. He said that this conference was held to strengthen UI's role as one of the partner universities of the Indonesian government that contributes to research-based policies in the fields of science, technology, health, arts and culture, and also as part of global cooperation.
"UI has a big responsibility to support Indonesia's leadership in the G20. UI plays a strategic role in holding discussions and dialogues on important issues and contributing intellectually to the main priorities of the Indonesian G20 Presidency," said Prof. Ari Kuncoro.
Furthermore, the Rector of Universitas Indonesia revealed that UI researchers had formulated their thoughts into a draft of policy brief. "A total of 43 policy recommendations on three priority issues as well as cross-sectoral issues and ideas from the T20 forum were presented and discussed yesterday on the first day of the conference," he said.
He added, the discussion result will be compiled as a policy brief, which hoped to give a significant contribution for the three priority issues in Indonesia's G20 Presidency. On that occasion, the Rector of Universitas Indonesia (UI) proudly conveyed UI's other contribution to the Indonesian G20 Presidency, namely UI handing over the UI Electric Bus to the Government which will be used at the G20 Summit in Bali October-November 2022.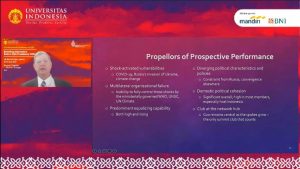 Prof. John Kirton, as the third keynote speaker and Director of the G20 Research Group University of Toronto, Canada, delivered material entitled Promising Prospects and Proposals for the Bali G20 Summit. He said, in order to make further progress, leaders who are attending the Bali G20 must do four things, first, closing the compliance gap; second, a more comprehensive focus on climate change; third, adding a special meeting on the sidelines of the UN General Assembly in September to promote the Sustainable Development Goals; and fourth, inviting the heads of the world's leading multilateral environmental organizations to Bali. According to a professor at the Department of Political Science, University of Toronto, the four things above are important foundations for a stronger, better, more equitable, sustainable post-pandemic economic recovery.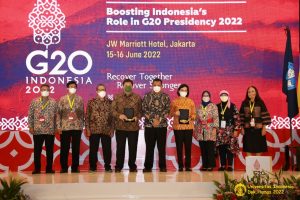 This post is also available in: Indonesian