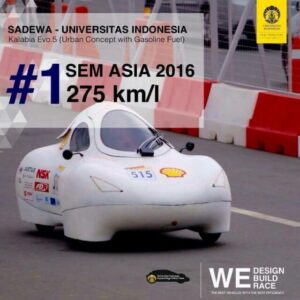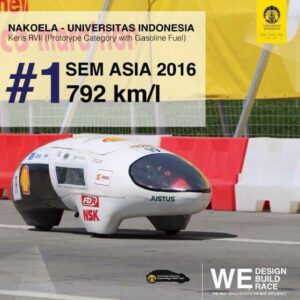 UI Supermileage Vehicle Team (SMV) got an achievement on an international event called  Shell Eco-Marathon (SEM) Asia 2016 on February 25th -March 1st 2016.
The event that was held at Rizal Park, Manila were participated by hundreds teams of various countries in Asia.
In the event, UI-SMV successfully sent two teams, Sadewa and Nakoela.
Both teams successfully got the first place for Urban Concept Gasoline and Prototype Gasoline.
Sadewa team was led by Dimas Cahya Negara, while Nakoela team was led by Aldry Triansya.
Nakoela led on Prototype Gasoline class by performing  792 km/L. Meanwhile, on Urban Concept Gasoline class, Sadewa led by 275 km/L.
This annual competition that was held by Shell at Rizal Park, Manila and was participated by hundreds teams from various countries in Asia.
This year, SEM Asia was participated by 17 countries with 129 top economical futuristic cars in Asia.
From Indonesia, there were 23 teams from various universities such as UI, ITB, ITS, and so on.