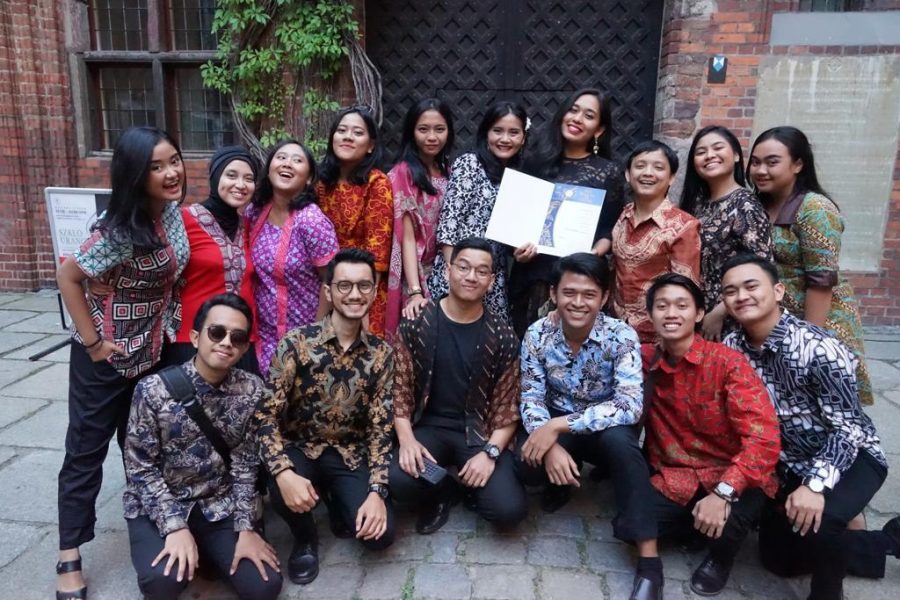 A number of students, lecturers and alumni of the Universitas Indonesia (UI) who are members of the Vocademia UI Vocal Group won the Gold Medal level 4 and won the second pop category at the Astra Astra's 7th International Copernic Choir Festival and Competition. June – 3 July 2019) in Torun, Poland. This event is a Choral festival organized by "Meeting Music" from Germany, and is held as an annual event where this time is the 7th year.
The vocal team trained by Mia Ismi Halida (UI 2005) and Ronald Wilson (UI 2004) competed with teams from a number of countries such as Poland, South Africa, Malaysia, the Philippines, Taipei, Lithuania, Latvia and the United States. This gold medal is the third Vocademia UI gold medal after winning 1st Place in the Pop Category, Busan Choral Festival, 2015 in South Korea, and 1st Place in the Pop Category, Canta Al Mar, Calella-Spain 2017.
The Vocademia UI team participated in the Pop and Jazz category by bringing three songs in the festival, Ariana Grande & I Know What You Did Last Summer (Shawn Mendes), Just the way i am (Charlie Puth) and Writings on the wall (Sam Smith). In addition, they were also involved in the Friendship Concert with the song Lir Ilir and two songs for the Grand Prix, Rather be (Clean Bandits) and Bahagia (GAC).
The main key to the victory of the Vocademia UI, according to Mia, "Since the beginning of his appearance, we have always prioritized three components, namely Vocals, Choreography and Acting. With the Vocal Ensamble format so that the number of members is less than the group choir, and makes it easier for the team to be more free to move and express the story of the song. The Vocademia also shows the Indonesian vocal diversity of individuals whose characters are very pluralistic, as well as entertaining arrangements, prioritizing techniques but still not too heavy for the audience to enjoy. "
In addition, Mia added, "This success can not be separated from UI and moral and technical support, such as input for the creation and distribution of proposals, providing events for fundraising activities, and of course facilitating space for our training for 8 months."