Universitas Indonesia Appreciates Vaccine Center Operators & Donates Ambulance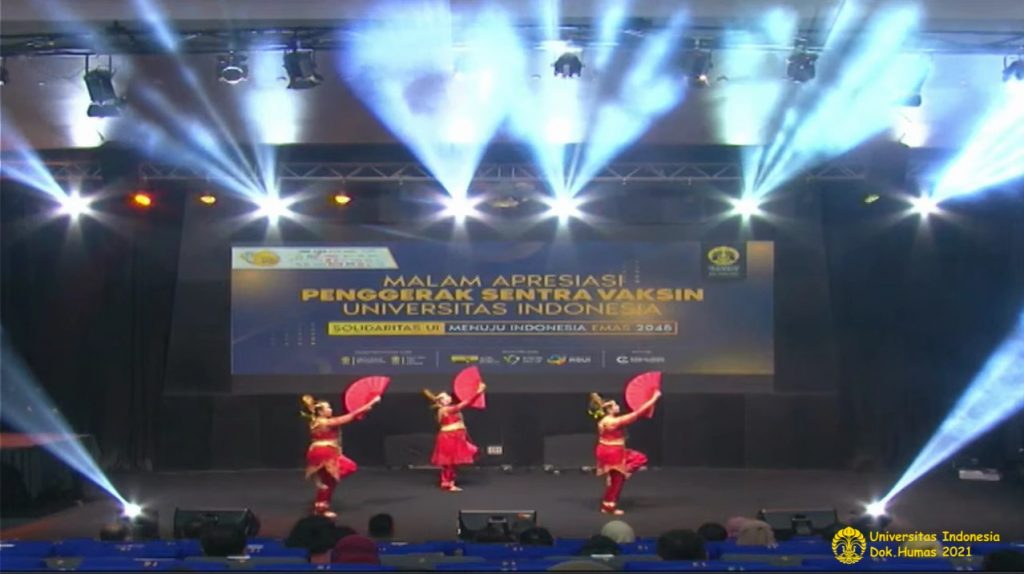 The Universitas Indonesia (UI) gave appreciation and awards to the drivers of the UI Vaccine Center, through an event packaged in the "Night of Appreciation for the Drivers of the Universitas IndonesiaVaccine Center". This activity was initiated by therectorCooperationrectorUI, held in a hybrid manner, located at the Auditorium Makara Art Center UI, Depok Campus. It was also aired on Makara Art Center's Youtube channel and UI Teve on Friday (10/12).
The presence of the UI Vaccine Center is a tangible form of UI support to the government in realizing the acceleration of community immunity (herd immunity) in Indonesia. "There are many elements that help, inseparable from the role and struggle of health workers, volunteers, health support personnel, as well as support from government and private institutions, namely, collaborative partners of this activity, namely the Indonesian Ministry of Health, Depok City Government, BRI, BNI, Mandiri, BCA, BTN, Salim Group, and Tower Bersama Group," said Dr. Tito Latif Indra, M.Si., as Chairperson of the UI Vaccine Center. Organizing Committee of Sentra Vaksin Mahasiswa Indonesia (SVMI).
On the award night, the Vice Chancellor for Human Resources and Assets, Prof. Dedi Priadi; Director of Prevention and Control of Directly Infectious Diseases of the Indonesian Ministry of Health, dr. Siti Nadia Tarmizi, M. Epid.; Head of Bappeda Depok City Drs. H. Dadang Wihana, M.Sc.; Pls. Head of the Welfare Section of the Setko Adm. Central Jakarta Rama Permana Bahri, S.I.P.; DKI Jakarta Provincial Health Office Purwadi Health Resources unit; Corporate Community PT XL Axiata (company) Ika Florentina; Deputy Leader of BNI 46 KC UI Depok Erico Sudarma; John's Salim Group representative; representatives from the Hospital (UI Hospital); representatives of the Special Dental and Oral Hospital; and representatives of BEM UI.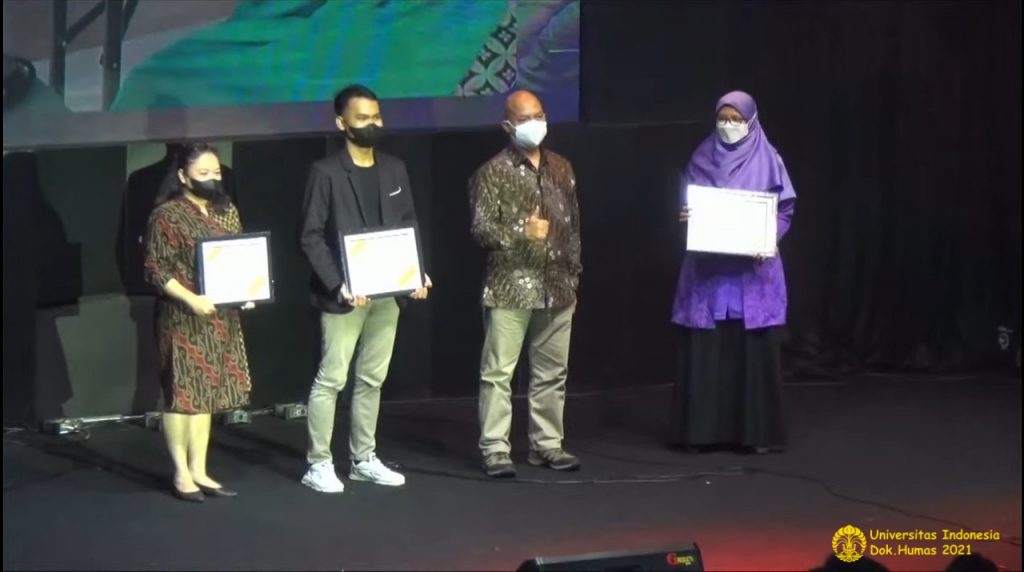 In his report, Dr. Tito thanked all parties both internal and external to UI for their support for SVMI activities. "After about six months of vaccine activists struggling to vaccinate against Covid-19, we want to give awards and appreciation to them. What we present in this Appreciation Night is not comparable to their sacrifices," he said. He added that in this activity, certificates of appreciation will be given to representatives of vaccine center activators consisting of doctors, medical personnel, institutional leaders, partners/sponsors and volunteers. "Awards will be given to four categories, each of which are doctors, nurses, administrative support, volunteers and sponsors. Each category will be represented by one person to receive the award," he said.
Universitas Indonesia (UI) Chancellor Prof. Ari Kuncoro in his welcoming speech said that, "The main purpose of this vaccine center is to reduce the transmission/transmission of Covid-19, reduce morbidity and mortality due to Covid-19, achieve herd immunity, and protect the community to remain socially and economically productive. The total participants who were vaccinated at the UI Vaccine Center included the Universitas Indonesia Hospital with 160 thousand vaccine acceptors, 23 thousand acceptors at the Makara Satellite Clinic, and 4500 acceptors at the Special Dental and Oral Hospital. With a total vaccine recipient approaching 200 thousand people in the Greater Jakarta area or residents who have ID cards throughout Indonesia, Baduy, Banten, and Cisarua, West Java."
On this occasion, UI provided a SVMI ambulance grant which was symbolically handed over by Prof. Dedi to representatives of the UI Makara Satellite Clinic. Then continued with the awarding of the struggle category to health workers (health workers) doctors and nurses from UI Hospital, Special Dental and Oral Hospital, and UI Makara Satellite Clinic, witnessed by the Head of Depok City's Regional Development Planning, Research and Development Agency The appreciation for sacrifice category was given to representatives from UI Hospital and Makara UI Satellite Clinic.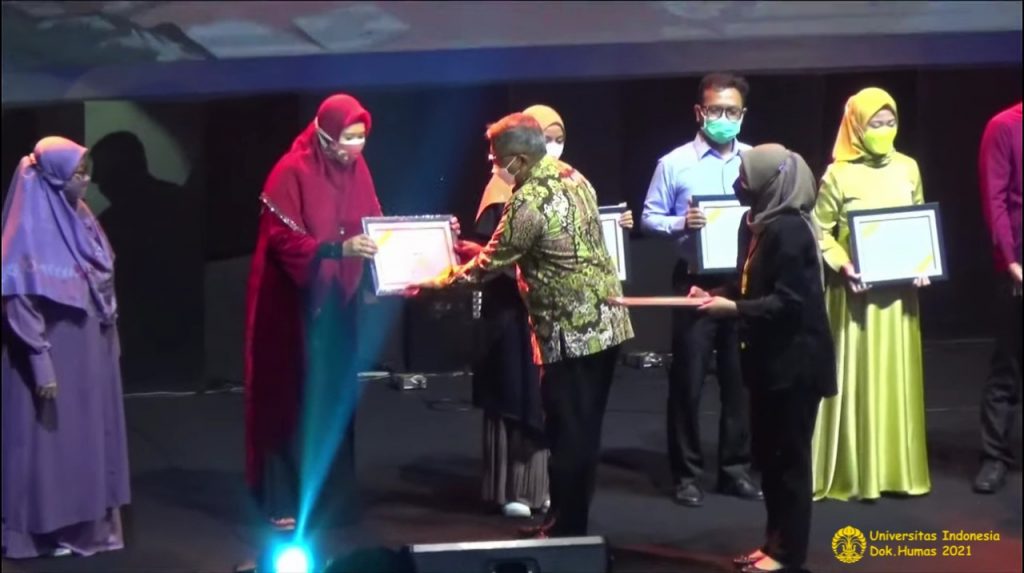 In addition, appreciation in the category of unifying drivers of the UI Vaccine Center was given to the Indonesian Ministry of Health, Depok City Government, Central Jakarta Health Office, BRI Bank, BNI Bank, Mandiri Bank, BCA Bank, BTN Bank, PT XL Axiata, Toyota, Wings Group, PT Paragon, and Salim Group. Not only that, UI also appreciated the Central Jakarta Administration as a collaborator partner in the Indonesian Student Vaccination Center activities.
In addition to giving appreciation and awards to the drivers of the UI Vaccine Center, the event was enlivened by musicians including Armand Maulana, Kikan, Ipang Lazuardi, Budi Cilok, and Marginal. Other performers included poets who recited poems and monologues, such as Inayah Wahid, Hanna Fransiska, Mimama Mafarif, Yogi Sani (Vice Chairman of BEM UI), and dancers from the UI Krida Budaya Dance League Student Activity Unit and Nusantari studio. "We should be grateful that Indonesia's condition is getting better, this cannot be separated from the role of vaccine center activists who are struggling hard. It is fitting that we give them appreciation and respect," said Head of Makara Art Center UI Al-Zastrouw.
This post is also available in: Indonesian